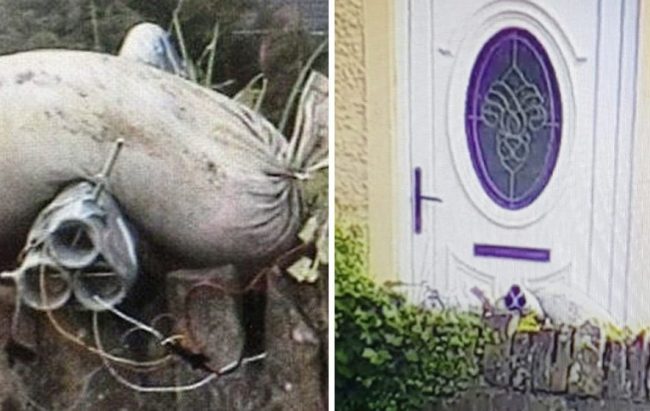 THE 'New IRA' which shot dead journalist Lyra McKee in April has said it was responsible for a failed mortar attack on a police station over a week ago.
An unfired 'mini rack' of mortars was discovered close to Strabane PSNI station on the morning of Saturday, September 7.
The 'IRA', which is often referred to as the New IRA, last night claimed responsibility for the attempted attack.
In a statement to the Irish News, using a recognised codeword, the group said it will continue to target members of the security forces.
"We will continues to train and develop our engineering capabilities and we will attack the crown forces at times and places of our choosing," the statement said.
The 'mini-rack', containing three mortar tubes, was left on a wall at Church View, which overlooks the town's police station.
It is understood that the three tubes each contained a warhead, which were packed with high grade powder explosives designed to detonate on impact.
It is believed that the mortar tubes were attached to a timer intended to trigger the launch of the warheads.
After the device was discovered pictures emerged which appeared to show wires coming from three tubes.
While in the past the 'IRA' has used mortar-type devices, it is believed to be the first time it has deployed multiple mortars designed to be fired at the same time.
Church View in Strabane is located in an elevated area which overlooks the town's police station.
Several homes close to the attack point were evacuated during the security operation.
A 33-year-old man arrested in the Strabane area last week was later released.
Several days after the attempted mortar attack a bomb containing commercial explosives and a command wire was found during a major PSNI operation in the Creggan Heights area of Derry.
The device was to be used in an attack on a passing police patrol.
Police had previously said they believed the 'IRA' was responsible for the devices uncovered during both alerts.
Speaking after the Derry discovery, PSNI Chief Constable Simon Byrne said he has dealt with more potential threats since he took up his post in July than the former chief constable did during the previous 12 months.
He added that "what we are seeing is changing types of engineering and capability that shows a determination and motivation to launch attacks that clearly aimed at killing or maiming our officers".
Tags: