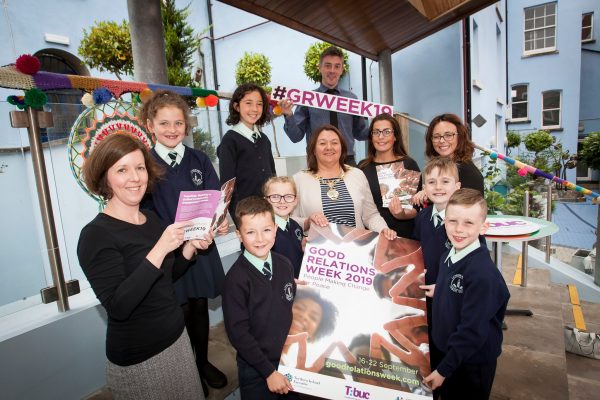 DERRY City and Strabane District Council will next week a host a wide ranging programme of events to showcase the positive work local organisations are taking part in in the field of community relations and cultural awareness.
Good Relations Week will run from now until Sunday, September 22, and will include events such as workshops, training events, launches, music events, showcases of work, public events and private events.
The events are being organised by a wide range of bodies' including DCSDC, libraries, museums, community, voluntary and youth groups.
Mayor of Derry City and Strabane District Council, Councillor Michaela Boyle, encouraged the public to take an active role in the week by attending some of the events around the City and District.
"Good Relations Week is a great opportunity to celebrate the crucial, often unseen work that takes place on the ground on a daily basis to build positive relations between cultures and communities, promoting diversity and challenging sectarianism and racism.
"I would urge the public to familiarise themselves with the programme and take in some of the events which are a great opportunity to learn more about the rich and diverse cultures that make up our local community."
Among the programme highlights are a performance of 'Don't shoot my wane, shoot me' at Studio 2 – a powerful drama by the Greater Shantallow Community Arts around the issue of punishment attacks.
The Bogside and Brandywell Initiative will host a celebration of different cultures from 'Around the World' in the Corn Beef Tin while the Mandarin Speakers Association will host a Chinese Cultural Awareness Day in Oakgrove Integrated Primary School.
Derry City and Strabane District Council's Good Relations Officer Pauline O'Neill added:
"Good Relations Week is an opportunity to inspire new ideas, promoting understanding, respect and engagement between and amongst all sections of our community.
"It provides a platform for organisations and groups from the community and voluntary sectors, arts, culture, sport, education to showcase innovative approaches to good relations.
"The initiative can only succeed through the engagement of the wider public and I would urge people to get involved by attending and contributing to the events next week."
For more information about Good Relations Week please contact Pauline O'Neill at Derry City and Strabane District Council by telephone on 028 7125 3253 or email pauline.oneill@derrystrabane.com.
The full Good Relations Week brochure is available to download at www.derrystrabane.com/Community/Good-Relations/Good-Relations-Week-(1)
Tags: