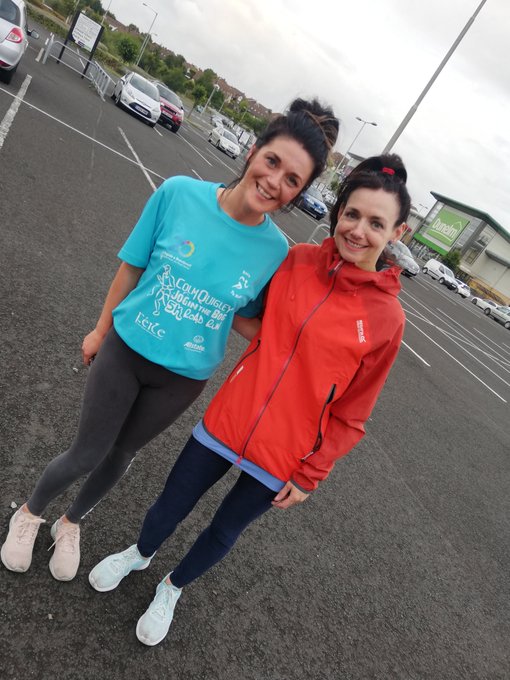 BOLT Running Club Couch to 5k graduate Angela Hegarty is encouraging local fledgling runners to consider the relay option at this year's Waterside Half Marathon.
The Muff mother of two was one of a number of local runners who completed their first 5k at the recent 'Jog in the Bog' event and the high of that achievement has left her hungry for the next challenge.
The three person relay option at the Derry City and Strabane District Council event on Sunday September 1st offers runners who don't want to complete the full 13.1 miles distance the opportunity to run a shorter distance and still enjoy the race day experience.
Angela will take part in the relay, which is split into a five mile and two four mile stages, with her fellow Bolt runners Maria Shanks and Louise Strain.
"I've never been sporty or belonged to a club so completing my first 5k has given me the push now to keep running and join the Bolt Club on their weekly runs," she says.
"There was talk about possibly doing a relay at the Waterside Half Marathon, so that got me thinking, yeah, maybe I could do that?
"I saw my husband Paul complete the full race last year and the timing of it now so soon after my first 5k and the fact that it is so close to home has given me the motivation to go for it.
"My aim is just to finish it and to just have fun really and enjoy the day with my fellow relay colleagues.
"The relay distances of four and five miles are the perfect next milestone for anyone who has just reached the 5k milestone or who is starting out in running through Parkruns.
"My advice to anyone considering starting to run is just go for it, you just need to take that first step and start.
"You will always be able to do it at your own pace, so don't compete with faster runners.
"Running with a group of people is great and you get such a sense of achievement when you complete runs together."
Angela's husband Paul caught the running bug when he completed the 2018 Waterside Half Marathon and after a winter of intensive training he finished the full marathon in Derry in June.
It was at that event that the idea of trying running for herself first occurred to Angela.
"My interest began I suppose when my husband Paul started training for the Walled City Marathon," she continued.
"At the back of my mind I thought maybe running would be a good hobby and way of keeping fit.
"Exercise is great for mental health as well as physical, so I always wanted to do something aside from walking with the dog.
"I could see on the streets and roads that running has become quite popular too and when I was in watching Paul doing the marathon I happened to notice the Bolt runners and supporters and thought they look like a fun group.
"I found out that they were doing a Couch to 5k programme and along with my father in law Terence, we decided to do it.
"When we started I was nervous, I'd never run before and didn't know if I was capable but I soon found out that the training was at a pace I could keep up with.
"I never really felt out of my depth and they always told us to go at our own pace. "We started with eight one minute runs and built from there.
"With two young kids at home and working, it can be hard to find the time and energy to get exercising, especially if you have to do it yourself, so joining a group was brilliant and we soon formed a gang."
The Jog in the Bog event proved an emotional climax for the Bolt Couch to 5k programme who were coached under the expert tutelage of Sean Hargan.
"My experience of the Jog in the Bog was absolutely brilliant," she added. "It was amazing to think we started at one minute runs and now we were doing a 5k.
"The atmosphere on the course was buzzing and really helped us on the night.
"It was a really nice touch from the Bolt Club to give us a guard of honour at the end and present us with a medal, like a little graduation.
"It felt brilliant to do it and exhausting, such a feeling of achievement."
The Waterside Half Marathon takes place on Sunday September 1st beginning at the parade ground in Ebrington Square and finishing on the running track at the nearby St Columb's Park.
Registration for the Waterside Half Marathon has been extended and is open now at www.derrystrabane.com/whm where participants can register in the running, wheelchair and three person relay team categories.
Entry for the race is strictly capped at 2,300 and with over half the places already taken participants are advised to register now to avoid disappointment.
All relay participants will receive a race t shirt and medal and a shuttle bus is available to take runners to and from the handover locations.
The race is open to athletes of all levels and abilities and further information is available by e mailing halfmarathon@derrystrabane.com or calling 028 71 253 253.
Tags: