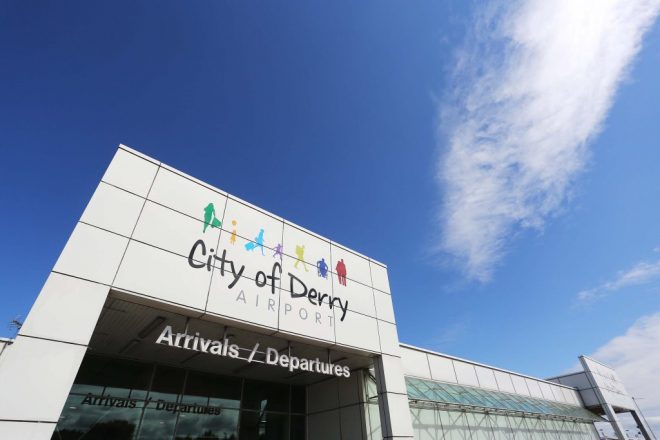 THE Mayor of Derry City and Strabane District, Councillor Michaela Boyle, has welcomed today's announcement by the Transport Secretary that the government will continue to fund the Derry to London Public Service Obligation route until March 2021, with an option to extend the funding for a further two years.
The funding means flights will operate twice daily from the city to London's Southend Airport, with one daily flight on Saturday, allowing round trips to help boost trade and tourism.
Scottish Airline Loganair will continue to operate the Derry to London service, which currently flies between CoDA and London's Stansted Airport.
London Southend Airport is conveniently located just 52mins by train from central London's Liverpool Street Station and the airport offers up to six train services an hour during peak times, and easy connections to the tube network.
Mayor Boyle said the news was extremely welcome as the City works to promote the NW City Region as a viable business hub and attractive tourism destination. "I would like to welcome today's announcement as it will ensure the continuation of a vital daily direct link to London allowing many regular users in the North West to do business conveniently and at reasonable cost," she declared.
"City of Derry Airport remains an important regional gateway which many local businesses have come to rely on.
"In keeping with the ambitions of our Strategic Growth Plan and promoting regional connectivity, we are committed to developing and enhancing services and sustainability at the airport and to ensuring that CoDA is the airport of choice for the NW of Ireland.
"Following our recent City Deal announcement this is a further endorsement of the NW region and will help strengthen our overall proposition in terms of building trade, tourism and investment.
"Council would like to thank the Department for Transport and Department for the Economy for their continued confidence and investment in the region."
Making the announcement today, the Transport Secretary Grant Shapps said: "This announcement is another demonstration of how the UK Government and its resources enhance the everyday lives of the people of Northern Ireland.
"I'm backing this route because I understand just how important these daily direct flights linking London and Northern Ireland are. Whether it brings businesses together or reunites loved ones it will enhance connections across the UK."
Mr Clive Coleman, Regional & City Airport's Contracts Director, and representative of the management company at the Airport stated:
"We are absolutely delighted to retain this important air link between City of Derry Airport and London.
"It's fantastic news that Loganair has been appointed to operate the Public Service Obligation to London Southend, offering adequate capacity at competitive fares and timings that are conveniently scheduled for a full working day at either destination.
"London Southend Airport will provide a significant upgrade in terms of customer service with shorter queues and walking distances."
Tags: