The artwork was designed by Joe Campbell and painted by UV Arts as part of a "proper Derry collaboration" and was launched on Thursday.
How to celebrate the city's once thriving shirt-making industry has been an issue of contention for years.
A previous sculpture to remember the women was shelved in October 2018 – a decision that led to the Inner City Trust commissioning this piece.
"There has been so much talk and so much controversy over the factory girls sculpture," said Helen Quigley, chief executive of the Inner City Trust.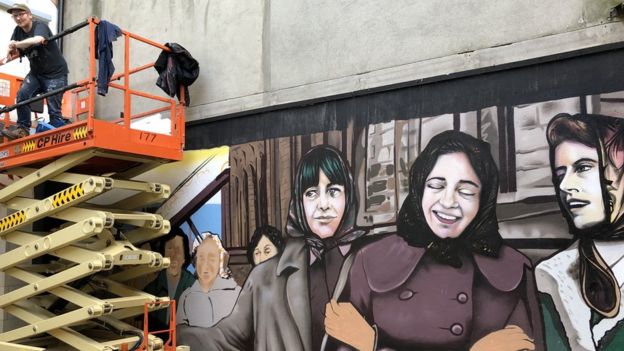 "In the absence of anything appearing, and after a lot of years of discussion around it, we thought we would try and make an effort to show our appreciation to the factory girls.
"I think that they will be pleased at least that we are making an effort in a small, small way to show off their legacy."
Mary Doherty, Clare Moore and Mary White all began working in the factories as teenagers and are still friends.
All three have been part of the campaign to create a sculpture for the factory girls, but welcomed the addition of a mural to the city.
"It's brilliant. It just makes my heart beat," said Mary White.
Seeing the sewing machine evoked memories of growing up for Mary Doherty.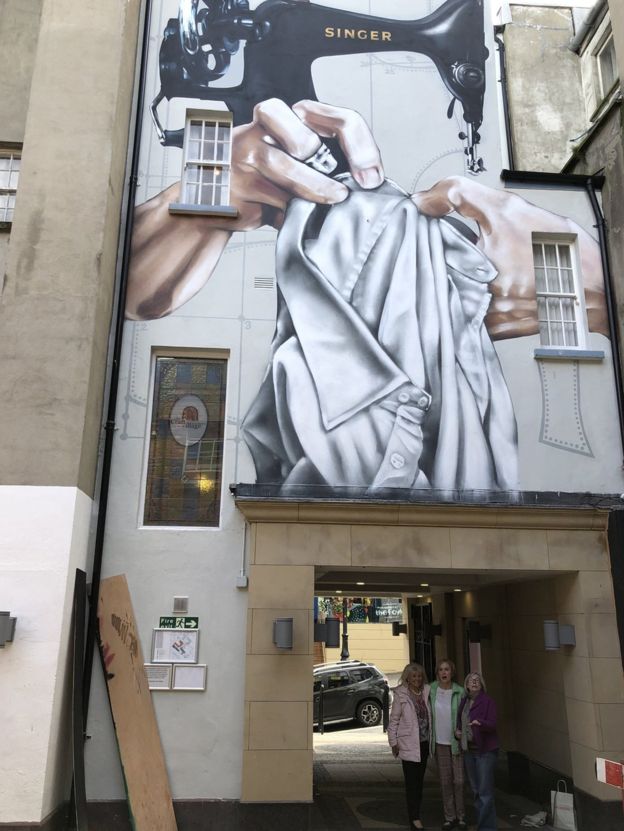 "Seeing the Singer up there really brings it all back, that was the daily grind," she said.
But for Clare Moore, the image also reminded her of home life.
"The fact that they've got the shirt and little black Singer sewing machine up there is uncanny," she said.
"My mother had one of those and my sister has it now actually, it's just so realistic, wonderful to look at.
"I'm very appreciative that something has been put up for us to remind not only ourselves of the work we did, but to let other generations see how it was too."
UV Arts were asked by the Inner City Trust to bring Joe Campbell's design to life on the Craft Village's walls.
The comic-book illustration of the working women and the photorealistic Singer sewing machine and hand-stitched shirt took days to complete.
Tags:
A NEW mural celebrating the legacy of Derry's factory girls has been painted in the city's Craft Village.