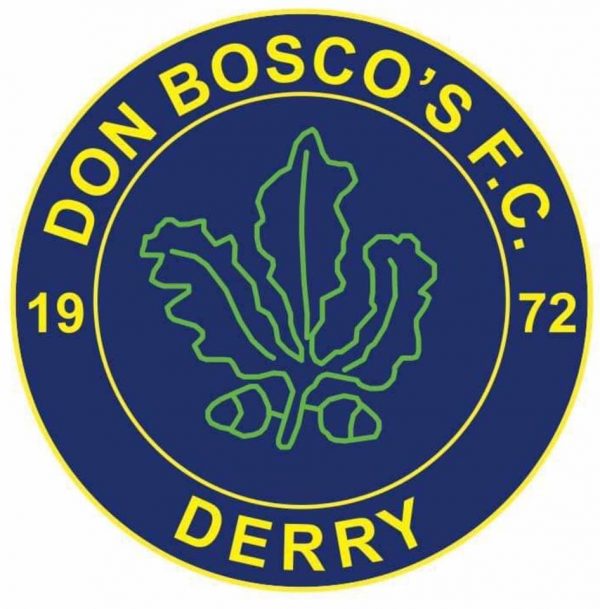 DERRY side Don Bosco's Football Club have paid a personal tribute to one of its founders and a legend Jimmy Crumley.
Jimmy sadly passed away on Wednesday night.
Here is the club's 'Appreciation of Jimmy Crumley':
"Well what can you say about a man like Jimmy, small in stature with a massive heart.
"If you ask Jimmy to help he would have went out of his way to do whatever you needed if he couldn't do it he found someone that could.
"In 1972 Don Boscos football club was formed with Terry Kelly, Leo Doran, Martin Mc Laughlin, Artie Palmer, Micky Carlin and Jimmy.
"They formed the club after having a very successful time playing youth football with St Mary's boys club in Creggan.
"Jimmy played for Boscos for 20 years and eventually went on to help Terry with the management of the club looking after their Saturday morning league team.
"Terence and Jimmy got together and had a discussion about forming a youth section for the club and for Jimmy to take charge of it, the youth section attracted players from all over Derry, Donegal and further afield.
"The club went from strength to strength with Terence and Jimmy's guidance winning at some stage every competition it entered.
"In fact the club had players move to premier clubs like Liverpool, Man City and others also Celtic and local clubs like Derry City, Institute and others.
"Jimmy gave his time freely to help the youth of Derry to better themselves looking after team after team through out the years not a lone looking after the children but also teaching the older boys how to coach the kids.
"Jimmy's proudest moments was seeing the children of all ages with massive smiles on their faces with just being asked to play for the club.
"He and Terence have left a legacy that we all partake in and the club has become one of the top clubs in the North West.
"We as a club and the public as a whole have a lot to thank Jimmy for he has left us with many, many great memories and helped a massive amount of people both adults and children a like.
"We extended our deepest sympathy with his wife Marian and his children and family circle.
"Rest in Peace Jimmy and Thank you."
Tags: