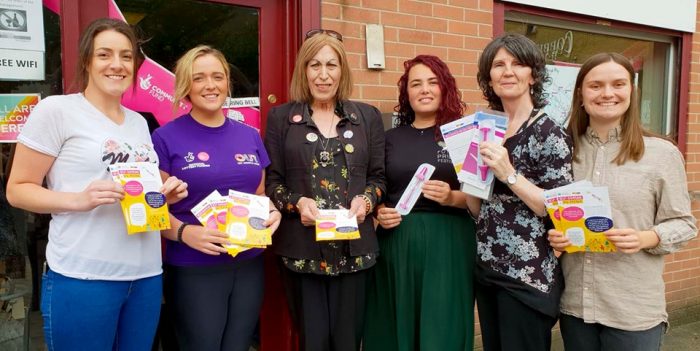 THE Western Trust and Rainbow Project Launch Self-Sampling Initiative. The Cellular Pathology Laboratory at the Western Trust's Altnagelvin Hospital in association with The Rainbow Project, has launched a self-sampling initiative aimed at improving access to cervical screening (smear tests).
Cervical Screening can detect curable, abnormal cells in the cervix and help to prevent cervical cancer from developing.
A spokesperson for the Rainbow Project said: "It is important to recognise that cervical cancer impacts those of all genders, including lesbian and bisexual women, as well as trans & non binary Individuals, who may face challenges in accessing health care.
"With this initiative, cervical screening will become more accessible."
Martin Robinson, Western Trust, Pathology Manager, said: "The initiative, which is funded by the Public Health Agency (PHA), involves offering self-sample collection tests for HPV (human papillomavirus) testing in marginalized groups that are often under screened.
"People can self-collect a sample in the privacy of their own home and return it to the Cellular Pathology laboratory at Altnagelvin Hospital in the return envelope provided.
"Samples will then be tested for the presence of HPV."
Martin added: "HPV is a very common virus that is linked to the development of abnormal cells of the cervix.
"Testing for the virus is therefore a way of assessing a person's risk of having an abnormality that, if left untreated, could go on to develop into cervical cancer.
"If a person tests HPV positive they would then be advised to attend their GP for a follow-up smear test. "
Early results from a pilot study conducted by the laboratory have indicated that cervical screening uptake can be greatly improved by offering self-sampling to under screened groups.
On Foyle Pride Parade Day this Saturday, August 24, The Rainbow Project will have a stall set up from 12 pm at Guildhall Square to promote the self-sampling initiative and answer any questions.
Self-sampling kits are free and can be collected from The Rainbow Project at Foyle LGBT Centre, Orlan House, 20 Strand Road.
Tags: