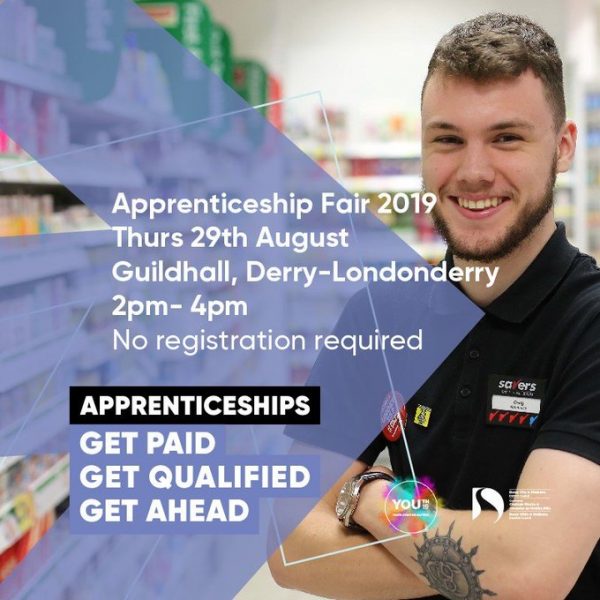 SCHOOL leavers who are still considering the best way forward in terms of finding a pathway to a new career are invited to attend a special event next week focusing on the benefits of Apprenticeships.
Led by Derry City and Strabane District Council the Apprenticeship Fair is taking place in the Whittaker Suite at the Guildhall on Thursday, August 29.
The event will bring together all local apprenticeship providers in the Derry and Strabane area to offer more information on how young people can earn while they learn.
Apprenticeships offer the chance to gain valuable qualifications while getting paid to work within a suitable industry, and help is at hand in identifying the best career path available. The Fair is open to young people aged 16-24 and will provide the opportunity to learn more about what apprenticeships have to offer.
Mayor of Derry City and Strabane District, Councillor Michaela Boyle, encouraged local young people to find out more about the variety of options available. "This week young people have been receiving their A-level results, with GCSE results to follow so it can be a time of great uncertainty for some.
"It's important to remember that there are lots of options available and plenty of support in terms of accessing information and advice. I would really encourage anyone who is keen to start a new career to consider the possibility of an apprenticeship, and find out more about the wide range of industries that are open to them."
A whole host of local businesses offer opportunities to both work and study, across a wide range of areas from childcare to computing.
Tina Gillespie is Skills Manager with Council assisting service providers and offering young people advice: "I think a lot of people are still very focused on mainstream education and sometimes don't realise that there are alternative pathways to reach the same goals," she explained.
"I think people would be surprised at the diversity of options that are open to them through apprenticeships and the local businesses who are keen to tap into the wealth of young talent we have here in the North West. This Apprenticeship Fair could be your first step towards a fantastic new career."
Training organisations present at the Fair will be: Babcock Training, Craft Training, Rutledge Training, Strabane Training Services, CTS Derry & Strabane, People 1st and North West Regional College.
No registration for the event is required, just drop into the Guildhall between 2-4 pm on Thursday, August 29.
For more information visit www.getapprenticeships.me or call on 02871308466.
#GetApprenticeships
Tags: