Paul Gallagher said any police intervention would be counter-productive.
Mr Gallagher, vice-chairman of Derry city and Strabane district council's bonfire working party, was speaking after flags and other items were burned on a bonfire in the city's Bogside last Thursday night on the Feast of the Assumption of the Virgin Mary.
A number of banners in support of Soldier F as well as union and loyalist flags were placed on the bonfire at Meenan Square. A rough effigy of the former soldier was also placed on the bonfire. Soldier F is facing murder and attempted murder charges in relation to Bloody Sunday.
Police said a number of complaints were received about "offensive and distasteful" material placed on the bonfire which marks the Feast of the Assumption of Our Lady.
A police spokesman said: "We are treating this as a hate incident and will continue to gather evidence as this evening continues.
"Where crimes have been committed and suspects identified they will be brought before the courts."
However, independent councillor, Mr Gallagher said any police intervention would be the wrong thing to do.
"This is something that will not be solved by the police dealing with it. It can only be dealt with at community level.
"A police approach simply will not work. People realise that there is no value in this. It's time now for everyone to withdraw, not just one side but both, so that progress can be made," he said.
Despite the Soldier F material, both Mr Gallagher and chairman of the working group, SDLP councillor Brian Tierney said progress has been made on bonfires in the last year.
The Bogside bonfire was criticised last year when the names of murdered police and prison officers, Stephen Carroll, Ronan Kerr, David Black and Adrian Ismay were placed on it.
Mr Tierney said an agreement with the bonfire builders not to include personal names this year held.
"There was also an agreement not to burn tyres and other offensive material such as poppy wreaths were not put on it.
"There was no trouble around the bonfire and the young people involved turned out today (Friday) to clean the area up.
"I think progress has been made and we can build on that," he said.
DUP Foyle MLA Gary Middleton said the material on the Bogside bonfire was offensive and hurtful.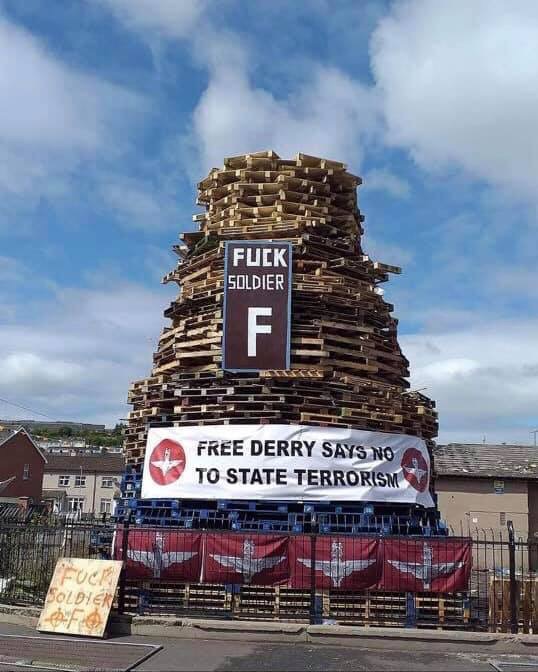 Mr Middleton, whose party asked police to remove the material, said both communities needed to get to the point were flags and effigies were not placed on bonfires.
The Fire and Rescue Service had to douse buildings near the Bogside bonfire with water but there were no major incidents on Thursday night.
Earlier thousands of people took part in "Festival of Fire" as part of the Gasyard Féile.
The event culminated in a spectacular fireworks display shortly before the Bogside bonfire was lit. Many of those attending the Féile moved on to watch the bonfire.
Tags:
A COUNCILLOR says the community should be left to deal with issues surrounding a controversial bonfire in Derry.