The Fermanagh native was a novice walker when the festival was first hosted by Derry City and Strabane District Council and Far and Wild back in 2014 but it marked the beginning of a journey that she admits has opened her eyes to a 'whole new world'.
A teacher in Thornhill College by day, she has found exploring the Irish countryside to be an ideal way to unwind and meet new people and she is encouraging others to sample the benefits of walking by getting involved in this year's festival.
"I always liked walking and usually tried to do as much as possible," she recalls.
"Initially it was walking to go places and do things rather than hiking as such but a number of years ago the parish of Ardmore held a series of Patrician Turas Walks that I took part in before attending the first Sperrins and Killeter Walking Festival.
"I had a great experience and haven't missed one since, it is very well run and the welcome and friendliness of the organisers make it a perfect way to get out walking.
"I decided to go along anyway, that is the beauty of Walking Festivals like the Sperrins and Killeter, everything is organised for you.
"Fully qualified and very experienced walk leaders from Far and Wild ensure each walk is geared to the level of the group attending and it is their job to get us from the starting point to finishing point where festival staff are on hand with the best cup of tea and homemade scones.
"The walk leaders are very knowledgeable about the area and are more than willing to share the history of where we are walking too.
"We've had horse-shoeing, turf cutting, a climbing wall, an open fire when we've arrived back wet and chilled, homemade treats and live traditional Irish music – something for everyone."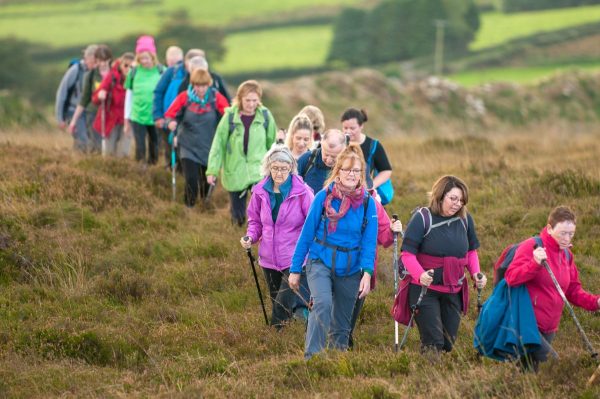 While Catherine has reaped the physical benefits of regular hiking, of equal importance has been its impact on her quality of life.
"Walking is obviously good for our health and that is an obvious reason for taking part but it offers much more – fresh air, scenic views, beautiful countryside, great company.
"It is a bit of a cliché now maybe that walking is good for our mental health but after a hectic week there is nothing better on a Saturday morning that standing in the countryside, on a mountain, by a lake, in a forest, forgetting about the time and just enjoying what is around us.
"For me walking has become something that I do to relax, energise and discover new places.
"Having responsibility all week, what I love is that it is someone else's job to tell me where to go, and to get me there and back safe."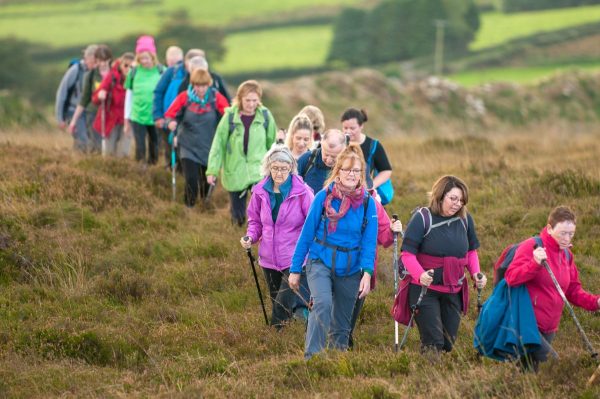 The Sperrins and Killeter Walking Festival caters for all levels of walker with walks graded as easy, moderate or challenging.
Catherine hopes that her positive experience at the event will inspire others to consider getting involved and registering for one of the six walks taking place over the two days.
"The Festival gave me the courage and confidence to try others and to be a little more adventurous," she explained.
"That is thanks to the friendliness of the organisers and the support and encouragement of the Far and Wild Walk leaders.
"I've climbed a number of mountains, walked / hiked in numerous areas of Ireland and even made it all the way to the Picos in Spain – organised by Far and Wild and an amazing experience – wouldn't have even considered it only that I knew I could trust Lorcan McBride not to advise me to do it unless he thought I would be able for it.
"I also did a section of the Camino and hope to do it all one day.
"Walking has opened up a whole new world, the social side of walking is just as significant as the fitness, the number of people I have met through Sperrins and Killeter and other walks and festivals is considerable.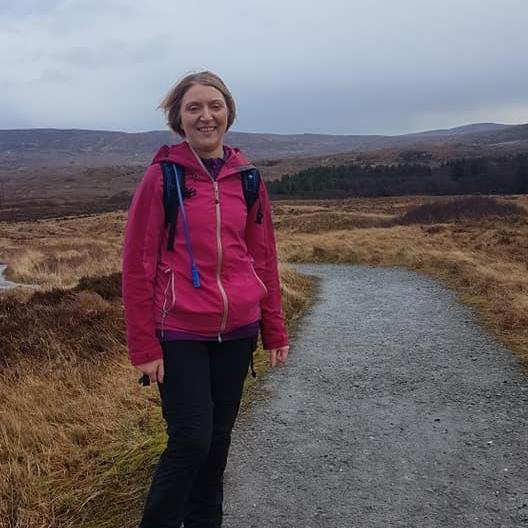 "The Walking Festival is where you can be sure to meet people out for the same reason – to discover another part of the countryside and enjoy being outside.
"Walking has made a massive difference to my physical fitness, my mindset, my self-confidence and has enabled me to discover a whole range of places that would never be seen if not walking.
"That year of walks with Ardmore and the Sperrins and Killeter Walking Festival are the two things I credit.
"That is why I return to the festival every year, it is to be highly recommended with walks for all levels if interest and fitness."
To register for any of the walks on the Sperrins and Killeter Walking Festival visit www.sperrinskilleterwalking.com where full details of each of the six walks over the two days are available.
Tags:
DERRY schoolteacher Catherine Montgomery is looking forward to returning to where her love affair with walking began when the Sperrins and Killeter Walking Festival returns on 14th and 15th September.