Two pictures have been placed on the bonfire in Tullyally.
One is part of a poster for the Chieftain's Walk which is held in honour of the late deputy First Minister to raise funds for the Foyle Hospice and the Intensive Care Unit at Altnagelvin Hospital.
A local Sinn Fein MLA has called the bonfire display as "sickening" and branding those behind it as "hatemongers".
In response Mr McGuinness's son Fiachra, sent out a message.
"Replace fear, hate and anger with love and you will be free," he tweeted.
The pyre has also been covered in the Irish Tricolour and other Irish flags.
It comes just a day after the names of murdered prison officer David Black and police officer Stephen Carroll were placed on a republican bonfire in Newry.
An offensive message aimed at the late Willie Frazer was also placed on the pyre.
Both DUP leader Arlene Foster and Sinn Fein's Michelle O'Neill condemned the incident.
PSNI Deputy Chief Constable Stephen Martin described both incidents as "disgraceful".
"Showing contempt for the deceased is despicable and very hurtful to their families," he said.
"Whether it is loyalist or republican is irrelevant.
"These shameful displays must be unequivocally condemned by all."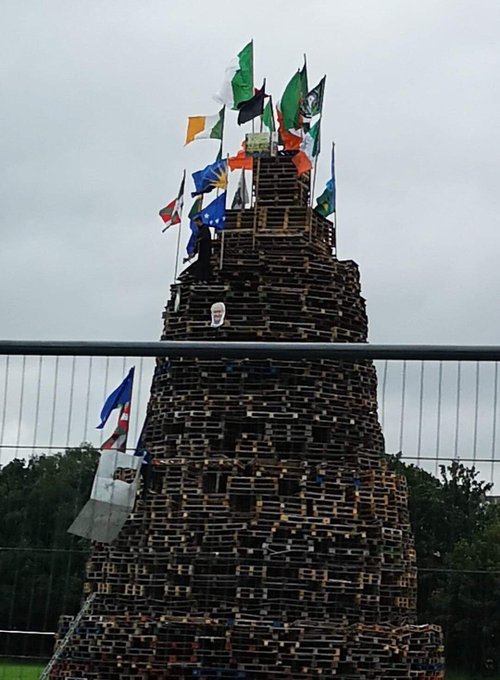 Sinn Fein's Karen Mullan condemned the display calling on the leaders of political unionism to speak out against the "hatemongers" behind it.
The Foyle MLA said: "I utterly condemn those who have erected an image of Martin McGuinness on a bonfire in the Tullyally area of Derry.
"This display is particularly sickening given that it's a poster advertising a charity walk.
"This is the action of hatemongers intent on spreading bigotry and perpetuating sectarian divisions in our society."
Tags:
PICTURES of the late Martin McGuinness have been placed on a loyalist bonfire on the outskirts of Derry.