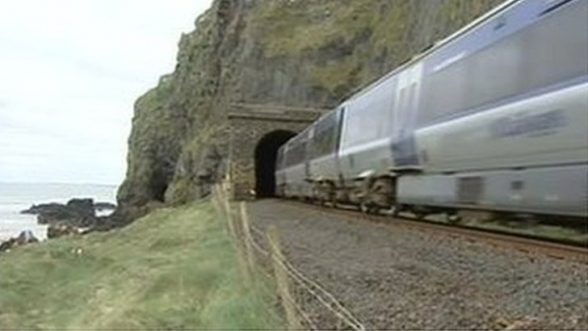 THE proposed third phase of the Derry to Belfast railway upgrade that would have allowed a more frequent and quicker service has been abandoned.
Rail lobby group Into the West, which successfully saved the Derry to Coleraine stretch of the line from closure almost two decades ago, has launched a campaign to get the Department for Infrastructure (DfI) to overturn its decision.
The upgrade of the line between Derry and Coleraine has been ongoing for the past seven years.
It included a passing loop at Bellarena which allowed for more journeys and track renewal.
But plans for an additional passing loop and a further line upgrade are no longer on DfI's books.
The decision has enraged local People Before Profit councillor and Into the West campaigner Eamonn McCann.
He fumed: "We need phase three to go ahead and the fact that the department said they are not going to do it won't deter us one bit.
"We have an hourly service now but we in Into the West are pressing for a half-hourly service, so we will be putting on the pressure for the rest of the upgrade to proceed.
"We were promised phase three would be finished by 2021, then it was pushed back and put off and now we are being told 'no chance'.
"We are very angry that this has happened but we will not be put off by any negative response from the department."
A DfI spokeswoman said the situation is being monitored but for now phase three won't proceed.
She said: "As the track condition is performing well there are no plans to take forward phase three of the Derry-Coleraine line.
"However, Translink is continuing to monitor this section of the line.
"It should be noted that this does not impact on any future decisions for faster trains or a direct train to Dublin.
"In addition, there are no plans to extend the railway network or construct new stations.
"The department has invested nearly £74m on significant upgrades on the rail network and associated infrastructure to the north west in recent years.
"This includes an investment of £46.3m in the Derry-Coleraine phase two track renewal which introduced a new, modern signalling system and the construction of a passing loop at Bellarena which paved the way for the introduction of hourly services between Coleraine and Derry.
"In addition, the department is investing £27.5m in the north west multi modal hub, which is due to open in autumn 2019."
Tags: