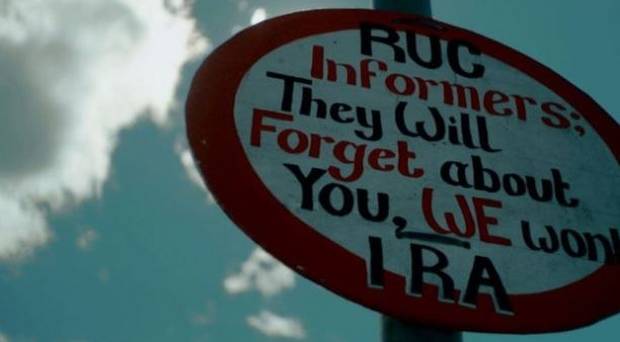 POLICE in Derry have said they will not remove pro-IRA signs and graffiti that has appeared in the Derry estate where journalist Lyra McKee was killed.
One of the signs in Creggan, which has been in place for several weeks, reads: "RUC Informers: They will forget about you. We won't. IRA."
Lyra McKee was shot dead by a New IRA gunman during rioting in the estate on Thursday, April 18.
Some pro-IRA graffiti that appeared in the area in the wake of her death was swiftly removed, but more signs and graffiti have appeared since, some next to a school.
Speaking to BBC Ireland correspondent Emma Vardy, Fr Joe Gormley, who anointed Lyra McKee on the night she was shot, said people are afraid to speak out.
"These people claim to be fighting for some kind of human rights but they treat people like animals if they don't agree with them," he said.
"They don't speak for the people of Creggan, but people here would be afraid, having signs like that outside a school like that is tantamount to abuse of our children."
PSNI Chief Inspector Jonathan Hunter said it is not the job of the police to remove such signs and graffiti.
"We find the placement of these signs as equally repugnant as the wider community does however the removal of such items is not the responsibility of the police," he said.
"We want this city to be safe and inclusive and will fully support efforts by the relevant land or property owner to have them removed.
"This is a ploy that has been used over the years to undermine confidence in policing and is not reflective of what the wider community in this city wants or needs."
Ulster Unionist justice spokesperson Doug Beattie said police need to toughen their stance on those behind the sinister messages.
"[The removal of signs and graffiti] has to be organised through the local council and if the police have to support them it doing that, then that's what they'll do," he said.
"We had the flag protests and some of the people involved in that found themselves doing serious time in jail. Why is it not exactly the same for those people involved in putting this stuff up on the walls, that they aren't doing serious time in jail?
"I think the police are being failed by are justice system, I think our justice system is poor. I think the police need to be more proactive. I think these are disgraceful things to be put up.
"But for anyone to say it's the police's job to go around the country and remove this stuff – that's incorrect."
Tags: