It is taking place this Saturday, July 20, in Clady Community Hall, Clady Village featuring artists Jan-Erik Andersson, Eileen Hutton and poet Robert Powell.
As part of the Earagail Arts Festival, artists from a range of disciplines have created a day of performance, conversation, and participation, using the river and bridge as a creative location and metaphor to address the universal issue of free movement.
The project uses the arts to address the very current question of 'borders' — both as barriers for people and goods to move freely and as psychological, cultural, even spiritual, lines of division which can hinder people and communities from developing in harmony.
Finnish artist Jan-Erik Andersson is creating a new artist film, recording local children dressed as bees and insects, the riverside environment of Clady, and events and activities happening today.
Andersson has also created the Voicing the Bridge Bench Sculpture, a sculpture activated by the public's involvement.
All visitors are invited to contribute thoughts, words and drawings to decorate the 'Voicing the Bridge' sculpture.
Irish-based artist Eileen Hutton invites members of the public to develop skills of eco-perception through two open workshops — 'Pollinator Parcels' involving solar-powered beekeeping gloves with sculptural bees and seed-parcels that can be scattered to create tiny wildflower meadows, and her 'Microphotography Workshop', inviting you to create photographs of local flora and fauna through the use of special stereo microscopes.
Anglo-Canadian poet Robert Powell has created 'The Lost Horn', a moving new piece of writing inspired by Irish history, contemporary issues, and the River Finn, imaginatively put to music by Ruth McPhillips and performed by the Voices of the Foyle Choir.
Robert will also read from previous and new work inspired by rivers and the people who live near them.
As part of the day, the international performance group Bbeyond will hold their monthly event in Clady.
These monthly gatherings exist as a free experimental action art space, open to anyone who wants to join an unconventional dialogue through action.
The artists especially want to thank the Clady Cross-Community Development Association, St. Columba's Primary School, and the people of Clady for their encouragement and support.
Financially supported by The Finnish Institute and Derry City and Strabane District Council.
Biographies
Jan-Erik Andersson
Jan-Erik Andersson (b. 1954) has presented installations, performances, public art works, interactive media works and architecture. Andersson's best-known work is the unique house and total artwork 'Life on a Leaf' in Turku, Finland, where he lives with his family.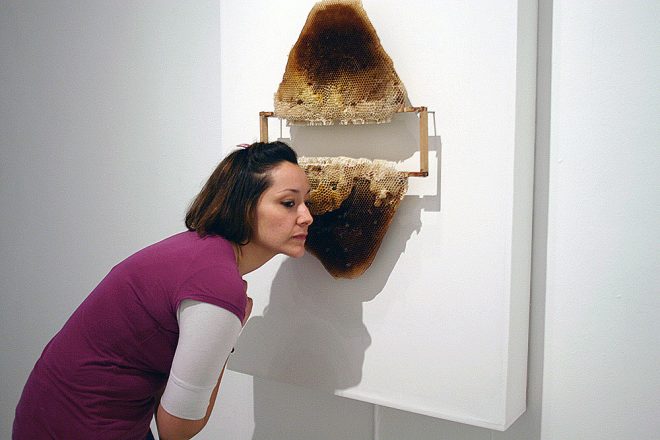 Eileen Hutton
Eileen Hutton is an emerging international artist and educator whose practice aims to generate reciprocal relationships with the natural environment and create replicable models for informed environmental actions. She developed the MFA in Art and Ecology at the Burren College of Art.
Robert Powell
Robert Powell was born and raised in Ottawa, Canada, and now lives in York, UK.
Robert has published four collections of poetry: an artist book and exhibition with Jake Attree, and two short films – The River Speaks, with Ben Pugh, and Source, with Jan-Erik Andersson.
Bbeyond
Bbeyond is committed to promoting the practice of performance art and artists in Northern Ireland and further afield. Our aim is to raise people's consciousness of live/performance art as being integral to the world in and around us, inspiring reflection and enriching lived experience.
Voices of the Foyle -~ Glórtha an Fheabail
Under Musical Director Ruth McPhillips, Voices of the Foyle – ~ Glórtha an Fheabail are a dynamic contemporary choir based in Derry. Voices of the Foyle ~ Glórtha an Fheabail performs a lively set of folk & traditional classics with a modern twist. They also cover a wide range of pop & contemporary songs.
Clady Cross Community Development Association
Clady Cross Community e Development Association offers a wide range of services to the local community including bowls club, walking club, youth club, meeting hall, children's parties, cross-border events, karate clubs and Irish dancing.
In 2018, it initiated the first hugely successful Clady Community Festival which encouraged working in partnership to build stronger communities and respect diversity.
Schedule
Time
Clady Hall
Outdoor spaces
11:00
A 'Sounding of the Horns' from Clady Village Hall
11:00 – 12:30
Informal Decorating of Bridge Sculpture – with Karen Cassidy
Eileen Hutton workshop 1 – 'Pollinator Parcels & Solar Bees'
11-12
'Be an Insect!' Jan-Erik & Adrian Andersson filming / costumes workshop
11:30-12
Live Music performance – Ruth McPhillips with pianist Raymond
O' Kane
12:30 – 14:00
Informal Decorating of Bridge sculpture
BBeyond free movement performance – anyone can join in!
13:00 – 13:30
Voices of the Foyle choir – 1
13.30 – 14:00
'Rivers & Bridges' –
Robert Powell – Poetry Reading
14:00 -15:30
Informal Decorating of Bridge Sculpture
Eileen Hutton – 'Looking at Biodiversity – Microphotography Workshop'
14.30 – 15:00
Voices of the Foyle choir – 2
16:00 – 16:30
'The Lost Horn' performance – Robert Powell, Musicians & Voices of the Foyle
17:00 – 17:30
GRAND FINALE –
'The Bridge of Horns' – Procession and Car Horn Orchestra over Bridge
Tags:
VOICING the Bridge is an international arts and film-making project taking place in Clady and inspired by the extraordinary 17th century bridge that traverses the River Finn where it forms the border between Tyrone and Donegal.