The motion will come from new PBP councillors Shaun Harkin and Eamonn McCann who were elected in May for Derry City and Strabane District Council.
Said Cllr Harkin: "This Thursday (June 27) is the first full Council meeting since Eamonn and I were elected.
"We are bringing a motion calling for Derry and Strabane Council to demand scrapping welfare reforms be a red-line in Stormont talks.
"Stormont inflicted Tory welfare reforms on communities along with the RHI racket and corporate tax cuts. We need to send a message to the talks that welfare reforms must be scrapped and replaced with a humane alternative.
"Stormont can't continue as it was – implementing vicious cuts and running RHI rackets.
"We're also proposing the creation of a Council action committee involving trade unions, community groups, advice organisations and other relevant bodies to put the weight of the Council behind getting people help now and to undo the damage welfare reforms have done.
"Cliff Edge NI is calling for welfare mitigations to be extended when they expire in March 2020 so that tens of thousands of people aren't forced to pay the Bedroom Tax.
"We're backing this – but the Bedroom Tax is already here and should be abolished.
"Welfare mitigations didn't protect people from the hardship inflicted by Universal Credit, PIP, and other draconian policies. Hundreds of people already pay the Bedroom Tax here.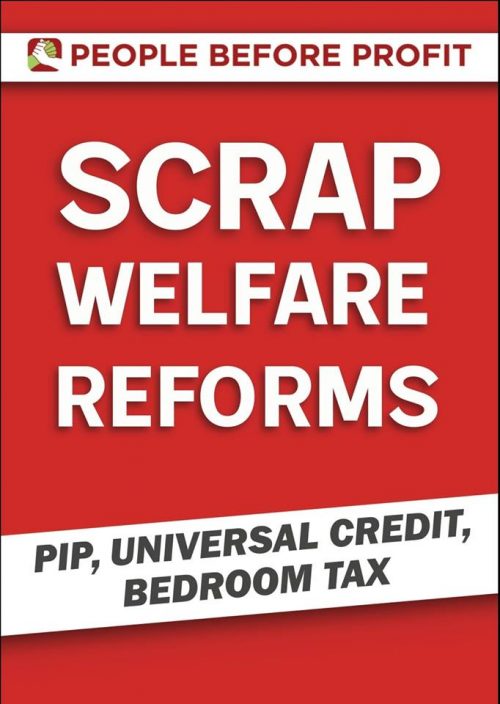 "We won't leave people and communities who've already been hammered by welfare cuts behind.
"Universal Credit has been a disaster and must be shown the door along with sanctions, the two-child policy and the benefit cap.
"Capita and ATOS, private companies profiting from causing misery in medical assessments must be kicked out.
"We're asking people to back the motion and join us at 3.30 pm at the Guildhall on Thursday.
"Make your voice heard," he added.
Tags:
PEOPLE Before Profit representatives will bring forward a motion at the first full council meeting of the term calling for the "scrapping" of welfare reforms to be made a red-line issue in talks devised to restore power-sharing.