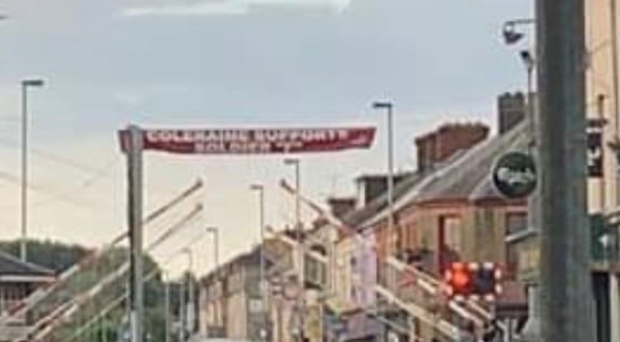 SINN Féin's Raymond McCartney has said the DUP need to show leadership on the issue of controversial 'Soldier F' and British Parachute Regiment flags across the North of Ireland.
Flags and banners have been erected on lampposts and across streets recently.
They have appeared in a number of cities and towns including Belfast, Bangor, Carrickfergus, Coleraine and Portadown.
Soldier F is to appear at Derry Magistrates' Court in August charged with two counts of murder and four of attempted murder on Bloody Sunday in Derry 47 years ago.
The Foyle MLA said: "In recent weeks controversial flags and banners have appeared across the North in support of 'Soldier F' who is facing murder charges in relation to Bloody Sunday.
"These banners and flags are designed to intimidate and cause offence, particularly when they are at interfaces or shared areas, a fact that has now been acknowledged by other unionist representatives.
"The DUP however have been at best ambivalent and at worst openly supportive of these offensive flags and banners.
"It is time the DUP showed some leadership and called for these intimidatory banners and flags to come down once and for all."
The Ministry of Defence said flags and emblems "should be used only in an official capacity".
A MoD spokesman said: "Flags, emblems and associated regalia are an integral part of the unique identity and heritage of the many regiments and units that make up the British Armed Forces.
"The MoD does not condone their misuse in any way."
Tags: