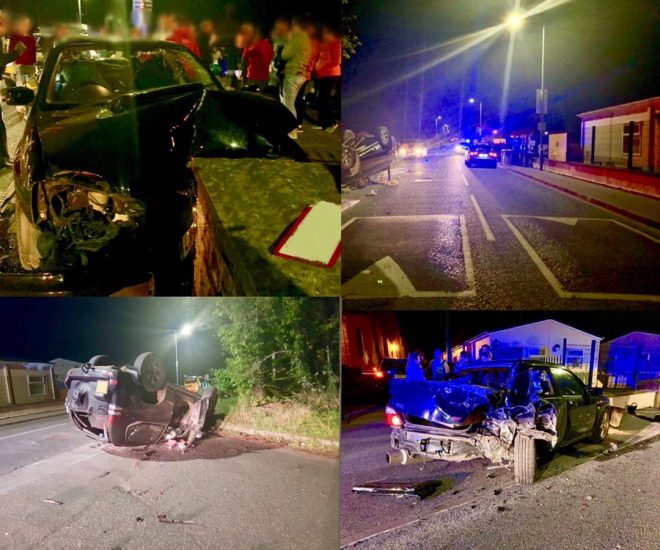 POLICE have released pictures showing the devastating impact of the selfish and dangerous actions of a drink driver.
PSNI Magherafelt say the driver was over double the drink drive limit when he crashed his jeep into another car.
It resulted in the car being shunted into a wall.
Three people were taken to hospital by ambulance who attended the scene last night outside Draperstown.
The driver cheated injury in the drink drive smash.
Writing on PSNI Magherafelt's Facebook page, an office wrote: "The aftermath of yet another drink driver.
"Still not sure how we are not dealing with the aftermath of multiple deaths today.
"This was the scene last night after a drink driver in a jeep ploughed into the back of a car and then forced it into a wall.
"Three people in the car were hospitalised with significant injuries.
"The drink driver, more than double the limit, was uninjured.
"So once again we have crews spending hours dealing with the consequences, multiple ambulances and paramedics treating the injured, hospital beds filled with the drink driver's handywork and numerous lives impacted by his actions.
"We need to get back to the stigmatising of those who drink and drive, the mind-set of those who think it's ok to drink and drive has to be broken.
"It's not OK to go the pub after work for a few jars then drive home.
"It's not OK to drive drunk during the school run.
"It's not OK to drive after you have been drinking.
"It's not OK to sit back and ignore someone who's been drinking leaving the pub and driving home.
"The conversation needs to happen, don't look the other way, challenge your mate or family member, take the keys off them, stop them.
"Those who drink and drive have no respect for any individual or community."
Tags: