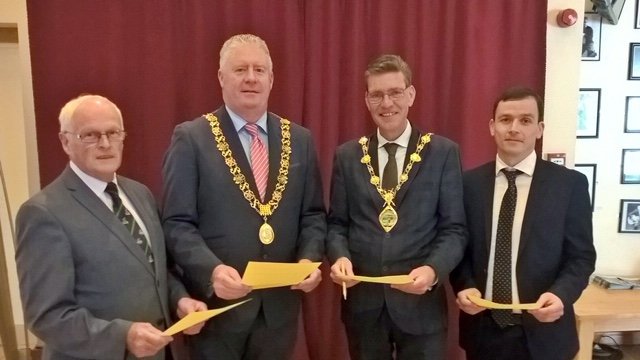 THE Mayor of Derry City and Strabane District, Councillor John Boyle, joined with civic leaders from across Ireland this week in signing a special Memorandum of Understanding dedicated to establishing a national network of Learning Cities.
Mayor Boyle recently launched Derry and Strabane's bid to become a UNESCO designated Learning City and was in Port Laoise for the signing which was attended by the Lord Mayor of Cork, Mick Finn, Deputy Mayor of Limerick, Eddie Ryan and Co-Chair of Dublin Learning City, Trevor Purtill.
The city will find out in June if it has been successful in its bid to become a member of UNESCO's global network of Learning Cities, promoting lifelong learning for everyone.
The Mayor was joined by partners in the North West Regional College and Ulster University in signing the application, which will focus on the theme of Access for All in terms of Educational Pathways.
UNESCO is the United Nations Educational, Scientific and Cultural Organization, which aims to build peace through a coalition of nations committed to a range of international standards promoting cultural heritage and the equal dignity of all.
According to Mayor Boyle, the endorsement from UNESCO will further enhance the profile of the City and District, and the MOU will place the focus on strengthening education links across the country.
"I was delighted to see the campaign move to the next stage today in establishing a national network of cities committed to the UNESCO ethos of promoting learning," he declared.
"While there are a number of cities around the world involved in the wider network, this MOU will strengthen our ties on a more localized level and create new opportunities in skills and learning across Ireland.
"While it will of course be fantastic to have the support offered through the wider UNESCO network, building partnerships between cities here is equally as important in fostering a culture and standard of learning that is consistent and appealing to people who wish to study closer to home."
Chairperson of Derry and Strabane's Learning City and Region initiative, Padraig Canavan, welcomed the MOU saying:
"This is a positive move which will be widely welcomed by educators North and South. With the recent announcement of a City Deal for Derry and Strabane and the strong focus on education and skills development at the heart of the bid, signing this charter is another step closer to realizing our aspirations for the North West in terms of establishing a centre of learning excellence here in the city.
"As a City Region we have always recognised the importance of lifelong education for better and more satisfying lives.
"Learning Cities declares this loudly and seeks to align our resources to provide better access, pathways and outcomes for us individually, as a community and as an advocate for sustainable improvement through education."
UNESCO defines a learning city as one that promotes lifelong learning by encouraging learning in families, communities and in the workplace, enhancing the quality and excellence in learning and extending the use of modern learning technologies.
This is turn lays the foundation for sustainable social, economic and environmental development.
All of the cities signed up to the new charter, along with Belfast, as members of the Irish Learning City Network endeavour to create an island of learning, ensuring opportunities for accessible, life-long learning throughout Ireland.
Tags: