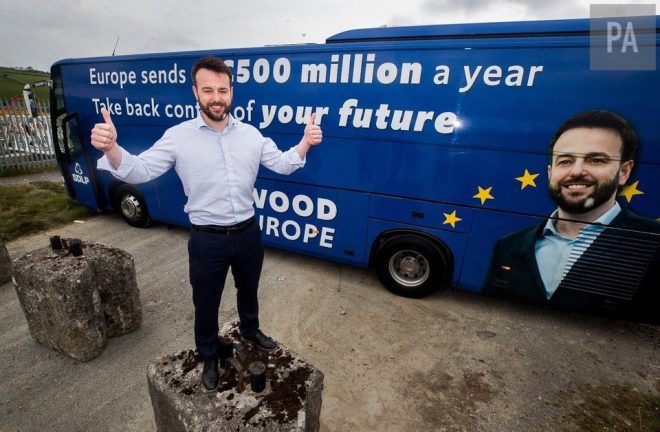 SDLP European candidate Colum Eastwood has challenged the DUP's Diane Dodds to a debate on the benefits of EU membership.
Mr Eastwood called for openness on what the North of Ireland is getting from Europe.
However, the DUP dismissed his offer as a stunt.
The UK will vote in the EU election on Thursday week, May 23, after a new Brexit date was set for October 31.
Outgoing MEPs Martina Anderson from Sinn Fein and Ms Dodds are standing for re-election.
Danny Kennedy is standing for the Ulster Unionist Party after its MEP Jim Nicholson decided to step down.
Mr Eastwood, meanwhile, is seeking to win back the seat the SDLP lost in 2004.
With Brexit set to dominate campaigning, Mr Eastwood has called for a debate on the value of EU membership.
"With 10 days until polling day, the public deserve to be told the truth on the benefits Northern Ireland consistently receives from the European Union," he said.
Describing Ms Dodds as "the leading Brexit-supporting candidate in this campaign", he challenged her to a public debate "based on the facts of what Northern Ireland gains from the European Union.
"Mrs Dodds has cast doubt on the central theme of my campaign that we are so much better off as part of the European Union," he said.
"If this is genuinely her view then I can't think of a credible reason why she would hesitate to take up my offer of a public debate.
"If the DUP agree, I'm prepared to clear my schedule and to take part in such a debate anywhere across the north and at any time during the course of the next 10 days."
Mr Eastwood has launched an anti-Brexit election battle bus highlighting the millions of euros transferred from Europe to Northern Ireland to support peace. The bus contains slogans "debunking" the claims of Brexiteers before the referendum.
Responding to Mr Eastwood's debate offer, DUP director of elections Gavin Robinson said there will be plenty of time for discussion.
"This is a publicity stunt and will be treated as such," Mr Robinson said.
"Diane Dodds will be in several TV studios debating all the candidates including Colum over the next 10 days.
"Colum has had two very awkward problems with his bus slogan. Firstly, it's our money coming back which we send to Brussels, and secondly, as a nationalist, his argument being based on money utterly undermines his campaign for a united Ireland.
"Whilst Colum wants to attack Diane, we will focus on giving the people the choice.
"We will be urging people to use this election to send a message that they want democracy to be respected and the will of the people implemented.
"Colum wants to thwart the democratic wishes of the people. We want to respect democracy."
Yesterday Education Secretary Damian Hinds said the European elections will be seen as an opportunity for the ultimate protest vote.
He told the BBC the elections would be difficult for the Conservatives and that "for some people this is the second referendum".
Shadow Brexit secretary Keir Starmer, meanwhile, told The Guardian that he doubts a cross-party deal lacking a confirmatory referendum could pass Parliament.
However, Mr Kennedy called for people to work together to deliver a sensible Brexit to end uncertainty and deliver stability.
"The last thing that our country needs is a second referendum which would be incredibly polarising and damaging to people's faith in our democratic system," he said.
The North of Ireland's 11 European candidates also include Alliance leader Naomi Long and TUV leader Jim Allister.
Tags: