In February, An Taoiseach Leo Varadkar said funding would be made available under the Project Ireland 2040 plan, to support the development of Derry and Letterkenny as a city region.
However, Miss Durkan says she is concerned that Derry is in danger of further economic slippage post-Brexit, without urgent intervention.
She said: "In general, there is a feeling of optimism among our sister towns and cities along the Atlantic Coast.
"Limerick, Galway, Castlebar, Sligo and Letterkenny are all growing and viable. Key to this is their third-level education provision, which has been successfully developed hand-in-hand with national and international investment.
"Belfast, since the signing of the Good Friday Agreement, has also seen rapid development and regeneration.
"A new university campus is currently being built in North Belfast and the city has now been awarded up to £1bn in a City Deal.
"Derry, however, was isolated generations under one-party Unionist rule at Stormont.
"Indeed, this discrimination and isolation was one of the main drivers of the Civil Rights Movement in Derry.
"Under the leadership of John Hume, Derry again became optimistic, particularly after he delivered the Good Friday Agreement. But in recent years, the policies of isolation have become apparent again.'
Miss Durkan said the failure to expand Magee over the past two decades was a sign that the patterns of isolation and historical inertia were starting to be repeated.
She added: "The huge delays in the development of, and opening of, ex British army sites at Fort George and Ebrington – neither of which have reached anywhere near the potential of the Gasworks or Titanic quarters of Belfast – is another major concern.
"The One Plan for Derry (Ilex 2011) which was dependent on UU achieving a minimum target of 10,000 students by 2020 [*then 3,000, now 3000] was also shelved.
"And the City of Culture initiative, while successful at the time, has had little or no cultural or economic legacy – other than to increase tourism numbers.
"The isolation of the west, identified by John Hume more than 50 years ago, has become systemic again. And it seems the new post-GFA generation of Belfast politicians and civil servants are unwilling or unable to tackle it."
Miss Durkan said that while secondary school provision in Derry was among the best on the island, there was little opportunity for young people here, post-18.
"There is scant higher education – nor are there the jobs and opportunities that traditionally go with higher education.
"Young people are marginalised, disaffected and alienated.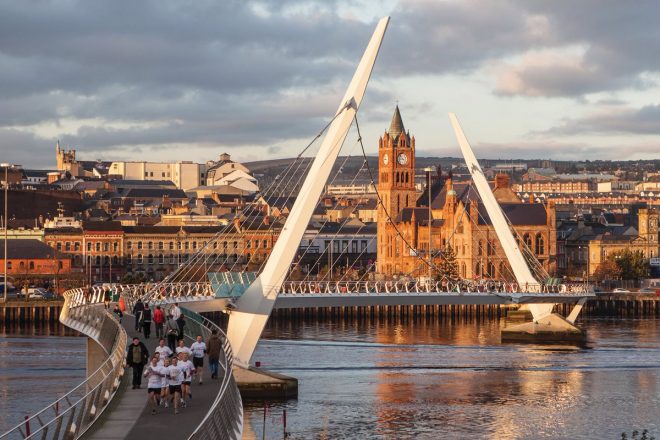 "As John Hume said: 'Alienation is a desperate development because it weakens coherence, erodes faith in progress and gives violence the opportunity to take root'.
"There is an urgent need for the development of first-class third-level education provision in Derry coupled with both inward investment and international investment.
"The Irish government can and should commit to supporting Derry on a long-term basis, as part of its strategy to develop the North West and to secure the Good Friday Agreement post-Brexit."
Tags:
SDLP Foyleside candidate Mary Durkan has said the Irish government has a key role to play in tackling Derry's long-term economic isolation.