According to a report in today's Sunday Life, the group has been given 28 days to leave Junior McDaid House in Chamberlain Street.
The notice to quit comes in the wake of the New IRA murder of journalist Lyra McKee in Creggan on Thursday, April 18.
Days after the 29-year-old's barbaric murder, friends of Lyra went to Saoradh's offices and placed their red painted hands on the exterior walls of Saoradh's office.
Looking on were a group of men including the suspected leader of the New IRA in Derry, convicted terrorist Thomas Ashe Mellon.
Saoradh was widely castigated for issuing a statement after the murder attempting to lay the blame for her death at the feet of police.
It issued a statement blaming her "accidental" death on an "incursion" by "heavily armed crown forces."
Refusing to condemn the murder, a statement read: "The inevitable reaction to such an incursion was resistance from the youth of Creggan.
"The blame for last night lies squarely at the feet of the British Crown Forces, who sought to grab headlines and engineered confrontation with the community.
"During this attack on the community, a Republican Volunteer attempted to defend people from the PSNI/RUC.
"Tragically a young journalist covering the events, Lyra McKee, was killed accidentally while standing behind armed Crown Force personnel and armoured vehicles.
"This outcome is heartbreaking and we extend our sincerest sympathy to the family, friends and loved ones of the deceased."
The backlash against Saoradh has continued with its Twitter and Facebook accounts being shut down.
In a statement, a Twitter spokesperson said: "We have clear Terms of Service in place which we enforce when violations are identified."
According to its terms of service, common reasons for suspending a Twitter account include spam, account security at risk and abusive tweets or behaviour.
As the net tightens against Saoradh's activities, its website server address has also been disconnected, starvimg it of oxygen on the internet.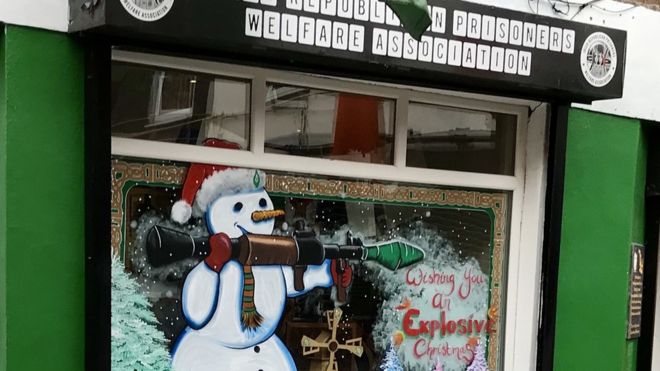 Over the past number of years Saoradh caused outrage when it painted on its window a snowman holding a rocket launcher.
Words painted beside read: Wishing You an Explosive Christmas!
Tags:
SAOARADH, the political wing of the New IRA, has been told to quit is offices in Derry.