The 29-year-old was struck in the head when a lone, masked dissident terrorist fired a handgun at police lines during ritoing on Thursday, Apri 18.
Derry Trades Union Council (DTUC) will "stand together as one and in solidarity, remembering the dead and fighting for the living" on International Workers Memorial Day.
Niall McCarroll from DTUC said: "We will be honouring the hundreds of thousands of working people killed or injured doing their jobs every year.
"Events will be held throughout the world, with Derry Trades Union Council marking International Workers Memorial Day today, Sunday, April 28, at 6 pm in Guildhall Square."
Mr McCarroll added: "Local trade unionists will welcome everyone through word and song, and we send an invitation out to the people of Derry."
Lyra will also be remembered by the National Union of Journalists this weekend during its May Day parade on Saturday, May 4, in Belfast.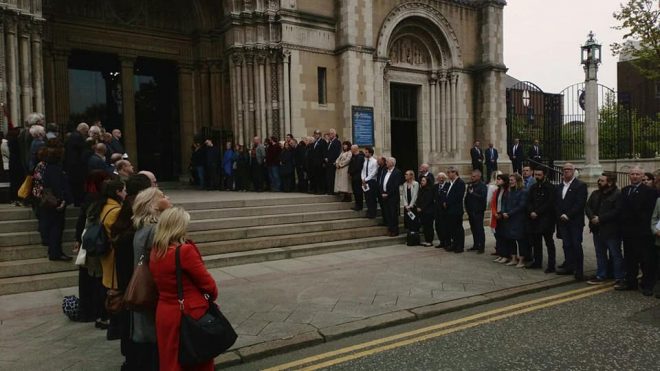 The NUJ formed a guard of honour outside St Anne's Cathedral in Belfast following Lyra's funeral last Wednesday.
Seamus Dooley of the NUJ said today: "On Saturday next we will remember Lyra at the May Day Rally in Belfast. Yes, on May 4 which is not May Day but that is the tradition in Belfast.
"The NUJ will lead the trade unions, I am honoured by the invitation to speak at the rally. This is our opportunity to celebrate Lyra and to send a message to those who kill workers.
"We do have a practical problem. For many members in Northern Ireland it will be a working day: count day in the local elections.
"Freelances cannot turn down work, staff cannot ignore the democratic process. Lyra would understand. That's where those living in the Republic, along with members not working on Saturday in the North, come in.
"Make a special effort to assemble at St Anne's Cathedral around 11am, speeches begin 11.30am.
"A wonderful opportunity for Dublin based journalists, in particular, to show solidarity with Northern colleagues.
"Retired members might consider using their travel pass and join us for what will be a sad yet enjoyable day.
"Bring a friend,.spead the word. #WeStandWithLyra"
Tags:
MURDERED journalist Lyra McKee, shot dead by the New IRA gunman in Creggan ten days ago, is to be remembered at an event being held in the Derry city today.