The option of giving information from behind screens or via video footage are to be considered, said Det Supt Jason Murphy of the PSNI's Major Investigation Team (MIT).
He described the step as "significant" but "absolutely necessary".
Ms McKee was shot as she observed rioting in Derry on Thursday night.
A masked gunman fired shots at an armoured police landrover with one bullet hitting Lyra in the head.
Police officers administered first aid to her before putting her in the back of the landrover and rushing her to Altnagelvin Hospital where she later tragically died of her injuries.
It followed searches on homes in Creggan by officers investigating dissident republican activity.
There were police fears dissidents were planning terrorist gun and bomb attacks in Derry over the Easter holidays.
The PSNI detectives said he was not seeking authority from the PPS to use the protections being considered, but to understand the legal system and the ramifications of offering them to ensure it withstands the scrutiny of the justice process down the line.
Det Supt Murphy said there had been a "palpable change" in community sentiment in support of their investigation since the murder of the 29-year-old on Thursday in terms of off-the-record intelligence.
But he said he was unable to convert that intelligence into evidence to bring people before court.
Det Supt Murphy added: "What I don't want to do is make promises to the community that I cannot keep later on, but I'll be very happy if I'm able to absolutely provide those reassurances.
"There is an opportunity here to take violent offenders off the street but I cannot do it in isolation – I must do it in conjunction with the local community.
"I really do believe that there is strength in numbers and it's a real opportunity for Creggan to retake control of its own community."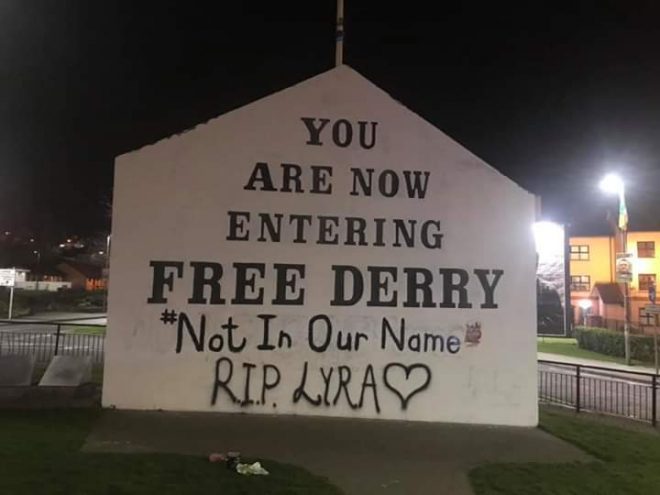 The PSNI has asked to meet with local community leaders and influencers to help them identify any witnesses or those with information.
Ms McKee's funeral will held at St Anne's Cathedral in Belfast on Wednesday.
Her partner Sara Canning said the service would be a "celebration of her life".
She has called on those who plan to come to the funeral to wear Harry Potter and Marvel related items.
It is understood the funeral service will be attended by political and faith leaders from across the North of Ireland.
Sara Canning
Tags:
THE SENIOR detective investigating the murder of Lyra McKee is to speak with the Public Prosecution Service (PPS) to discuss what reassurances can be offered to those giving evidence.