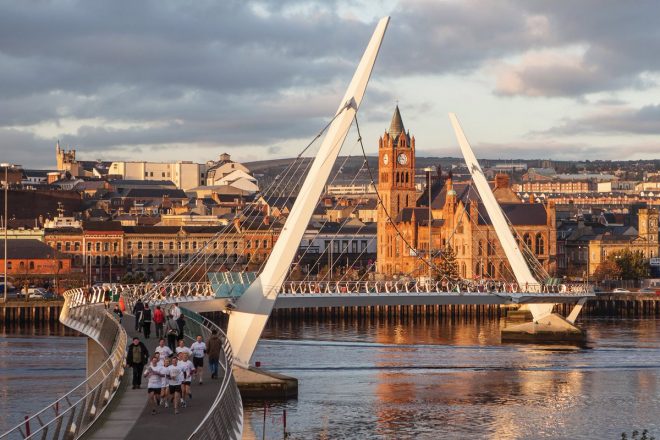 MAYOR of Derry City and Strabane District Council, Councillor John Boyle, today invited the Permanent Secretary for the Department for Education, Derek Baker, to meet with a cross-party delegation at the Guildhall to present the concerns of local parents and teachers regarding the impact of recent education cuts.
The meeting followed on from a motion agreed at a recent meeting of Council, and is the latest engagement in a campaign led by the Mayor in response to the ongoing crisis in education funding.
Outside, school children from Groarty Integrated Primary School were joined by the parents to protest over the planned closure of the school at the end of this school term.
Speaking after the meeting, Mayor Boyle said it had been a positive discussion addressing a wide range of issues.
"Given the escalating concerns of parents in the Derry and Strabane area I called today's meeting to facilitate a frank and open discussion with the Permanent Secretary Derek Baker," he explained.
"During the meeting local councillors and parents had the opportunity to present their very real fears that the effects of cost-cutting are already being felt by local children and our schools, with the potential closure of smaller rural schools such as Groarty Integrated PS who play such an important role in our local community.
"I am confident that today a strong case was presented on behalf of the parents of Derry and Strabane. Mr Baker was very open and honest about the pressures the education system is currently under, but took on board the concerns raised.
"It was agreed that the best course of action following on from today's private meeting is to write to the Secretary of State with a view to securing an urgent meeting in the very near future.
"Council will continue to work with our partners in education to pursue a proactive approach to ensuring that adequate funding is secured to support our children and young people and their right to a good education and a positive future."
Tags: