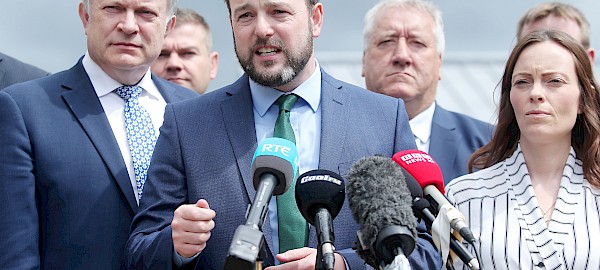 SDLP leader Colum Eastwood has emerged as the party's leading last night emerging as the most likely SDLP candidate to contest the European election.
It is understood the Foyle MLA is considering throwing his hat into the political ring and seek the party's support for his nomination.
Voters will go to the polls on May 23 to elect three MEPs from the North of Ireland for the European Parliament.
Sinn Fein's Martina Anderson has already won party backing to stand again next month.
The DUP's Diane Dodds, wife of the party's deputy leader Nigel Dodds, has also confirmed she will contest the elections again.
Both are expected to retain their seats.
UUP's Jim Nicholson announced on Monday that after 30 years he will not be running again.
The SDLP has been left in a difficult position to find a suitable candidate who could possibly take the third seat from the UUP.
One possible candidate would have been former SDLP leader Mark Durkan.
But the former Foyle MP has already thrown his lot in with Fine Gael and contesting a seat in Dublin
Sources in the SDLP said it was "now make your mind up time" for the leadership to pick someone who would be the best candidate to win a seat in Strasbourg once long held by John Hume.
"The quandry is that if Colum is elected as MEP would he stay on as party leader?" said one SDLP insider.
"If the Assembly comes back he could not hold two positions.
"But on the other hand there is no sign that the Assembly is going to get up in the very near future, if at all.
"So it could be worth a gamble putting Colum's name forward at this stage."
At the last European elections in May 2014, the SDLP's Alex Attwood polled 81,594, 2,000 votes behind the UUP's Jim Nicholson who got elected.
Sinn Fein's Martina Anderson topped the poll with almost 160,000 vote, running Diane Dodds into second place with 131,163.
Tags: