A protest in Derry and a further one in Belfast by former British soldiers have already been cancelled after counter demonstrations were planned.
Soldier F is to be charged with murdering James Wray and William McKinney after British soldiers opened fire on civil rights demonstrators in Derry in January 1972.
He is also to be charged with the attempted murder of four other people 47 years ago – Joseph Friel, Michael Quinn, Joe Mahon and Patrick O'Donnell.
Relatives of the 14 Bloody Sunday murder victims have been left disappointed by the ruling by the Public Prosecution Service to prosecute only one soldier.
Their lawyers are now planning a judicial review not to prosecute other British soldiers for murder.
Veterans have reacted angrily to the decision to take legal action decades after the bloodshed.
Rolling Thunder ride organiser Harry Wragg said: "Our ride is not directed at the victims, it is directed at the British Government.
"Our argument is with the Government, not the victims of Bloody Sunday or any other event."
He added: "Where are they pulling the evidence from, why are the British Government allowing this to happen?"
Participants in the demonstration on Friday April 12 are due to travel from across the UK, including the Lake District, Wales as well as the home counties.
Mr Wragg said: The plan is, we ride through with 4,000 motorcyclists.
"That is rolling thunder."
They had planned to travel to Westminster but that date coincides with the new no-deal Brexit date.
It is uncertain whether they will be allowed to proceed to Parliament, the organiser said.
A decade-long investigation by Lord Saville held at Derry's Guildhall concluded that British soldiers killed protesters who posed no threat.
It concluded soldiers had fired more than 100 rifle rounds, killed 14 people and injured more without justification.
The Saville Inquiry said: "The firing by soldiers of 1 Para caused the deaths of 13 people and injury to a similar number, none of whom was posing a threat of causing death or serious injury."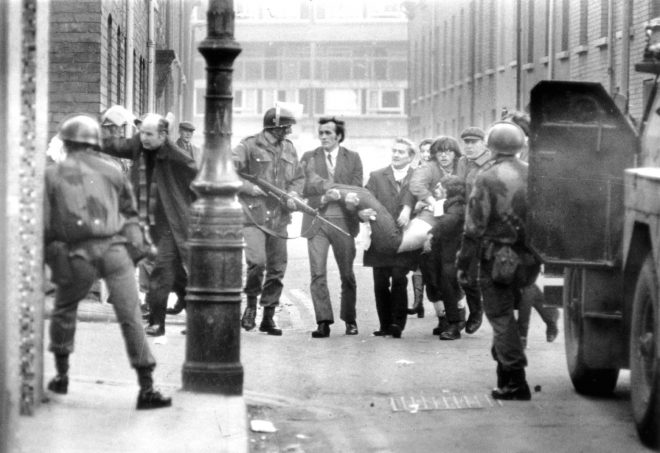 This also applied to the 14th victim, who died later from injuries.
The report added: "We found no instances where it appeared to us that soldiers either were or might have been justified in firing.
"Despite the contrary evidence given by soldiers, we have concluded that none of them fired in response to attacks or threatened attacks by nail or petrol bombers."
The report added that no one threw, or threatened to throw, nail or petrol bombs at soldiers.
"The explanations given by soldiers were rejected, with a number said to have "knowingly put forward false account."
Tags:
THOUSANDS of bikers will descend on London next week to protest against the prosecution of a British soldier for murder over the Bloody Sunday massacres.