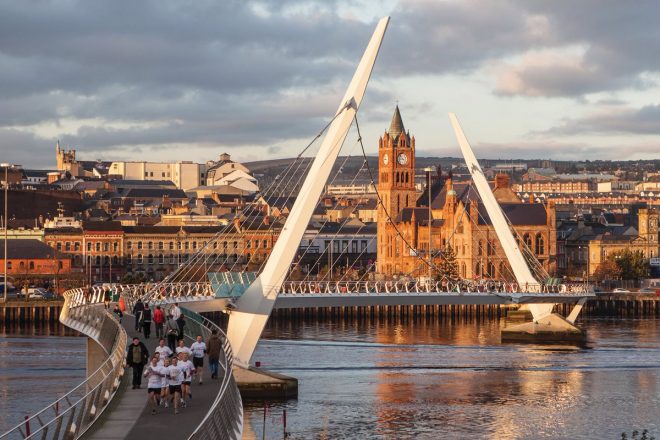 THE Planning Committee sitting on Derry City and Strabane District Council has given the go ahead for almost 150 new homes for the Galliagh area.
The decision came after planners recommended that members approve the proposals for 146 new dwellings, comprising of a range of detached and semi-detached houses and apartments, offering options from four bedroom to one bedroom accommodation.
The development follows on from a number of previous approvals for zoning in the area, which are currently under construction.
The approval was given during the same meeting where 750 new homes received the green light for the Ballyoan area of the Waterside, and the plans were welcomed as good news for the City and District.
Speaking after the meeting the Mayor of Derry City and Strabane District Councillor John Boyle said: "I am delighted to see these plans going ahead, bringing almost 1,000 new homes to the city on the back of the positive decisions.
"Council's planning team are working closely with local developers to facilitate positive and responsible development across the City and District to meet the needs of local people.
"This includes the creation of substantial numbers of new homes, improved infrastructure and better community amenities for all.
"I want to commend the work of everyone in bringing these significant plans to this stage and I look forward to seeing them come to fruition."
Chair of the Planning Committee, Councillor Warren Robinson, said: "This is extremely good news in addition to the earlier approval of the homes at Ballyoan.
"It will go some way to relieving housing stress in the cityside area, and will add to the considerable development work already ongoing in that area.
"Much progress is being made by the Council's Planning Department in delivering on the commitments outlined in the Strategic Growth Plan for Derry and Strabane and its ambitions in terms of addressing issues such as housing shortage and creating a better living and working environment for the people of our City and District."
The application was made by Apex Housing and the development will be located at H1C zoned lands for housing between the Skeoge Link Road and the Lower Galliagh Road.
The proposal also incorporates an equipped play park, as well as considerable areas of open space and landscaping and associated site works.
Tags: