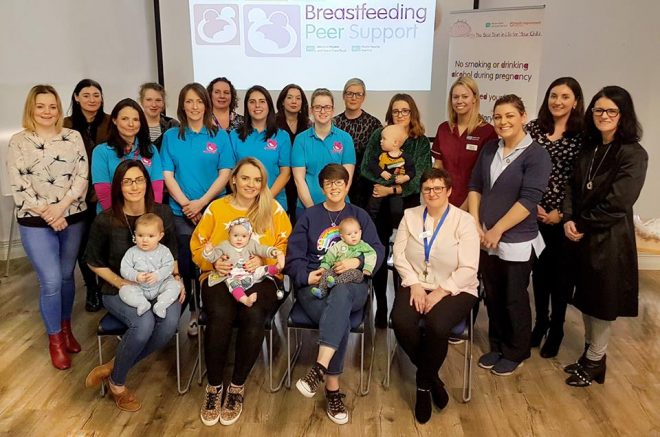 THE Western Trust Health Improvement, Equality and Involvement Department hosted an update session for all of the Volunteer Peer Support Mums in the Northern Sector of the Western Trust recently.
The update event held in St Columbs Park, Derry focused on celebrating, supporting and normalising breastfeeding.
Zoe Fletcher, Health Improvement Dietitian, Community Food & Nutrition Team – Project lead explains: "The benefits to both mum and baby breastfeeding cannot be under estimated.
"We are delighted to host this annual breastfeeding to thank our wonderful peer support mums, midwives and health visitors who provide support and advice to mums who wish to breastfeed throughout the Western Trust area.
"With only 8.1% of babies in Northern Ireland being breastfed at 12 months, it is important that we continue to support mums and promote the message that breastfeeding is the most normal and natural way to feed babies.
Zoe added: "Support can come in a wide range of ways.
"Research shows that if a mother feels supported by family and the wider community she is more likely to breastfeed for longer.
"Local businesses can participate in the Public Health Agency, 'Welcome Here Scheme' making mothers feel more welcome to feed their baby on their premises.
"Workplaces can develop a workplace policy for breastfeeding women returning to work and we can listen to our mums and signpost them to local breastfeeding groups.
For additional information about breastfeeding or breastfeeding activities within your area contact your midwife, health visitor or breastfeeding support group.
More information can also be found on www.breastfedbabies.org
Tags: