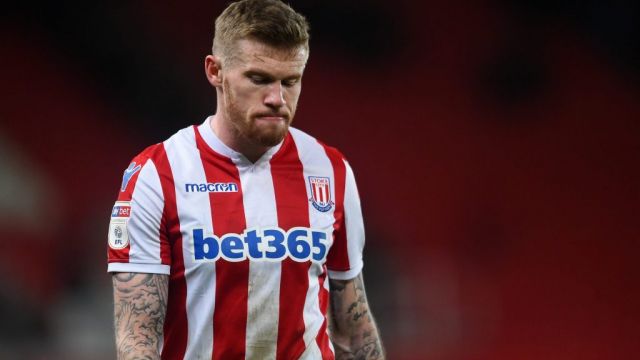 STOKE City and Republic of Ireland winger James McClean stood up to bigoted QPR fans at Loftus Road on Saturday after being targeted with repeated abuse from the home fans.
A video circulated widely on social media showed Creggan-born McClean walking over to the home fans and standing in front of them while they hurled abuse him.
McClean was eventually escorted away by his Stoke City teammates.
The game between the two Championship strugglers ended 0-0.
Sinn Fein West Belfast MP Paul Maskey called for the FA to take action against fans who target McClean.
"Disgraceful scenes again on Saturday as James McClean came under a bombardment of anti-Irish racism, this time from QPR fans," he said.
"When will the English FA call (it a) day on this type of behaviour and hold those responsible to account?
"These scenes on an almost weekly basis are absolutely intolerable."
McClean is no stranger to abuse from fans.
Earlier this season he took to social media and labelled Middlesbrough fans who abused him as "uneducated cavemen" before the FA warned him for using "an offensive word on social media".
He is regularly the subject of fans chanting over his refusal to wear a poppy on his shirt in games played around Remembrance Day.
McClean refuses to wear the symbol, citing the actions of the British Army in his home city of Derry on Bloody Sunday murdering 14 unarmed civilians.
He has been the subject of sectarian abuse and death threats over his decision.
Stoke manager Gary Rowett recently revealed that "packages" have been sent to the club addressed to father-of-three James.
"His family have had death threats, his wife and kids have had abuse constantly, and he's been sent stuff in the post which I've seen recently from fans," said Rowett.
Tags: