The protesters arrived at the Northern Ireland Office, to deliver a petition with 62,000 signatories, calling on the British prime minister and Secretary of State Karen Bradley to extend abortion rights to Northern Ireland.
While laws on abortion have been liberalised in Britain and the Republic, terminations are only allowed in the North of Ireland if a woman's life is at risk or there is a risk of permanent and serious damage to her mental or physical health.
Siobhan McSweeney, who plays nun Sister Michael in the hit show, said: "It makes me so angry that women there are being denied bodily autonomy and health care services available to others in the rest of the UK and Ireland – they have reproductive rights too."
Nicola Coughlan, who plays Clare Devlin, said: "It was such a proud moment when we repealed the 8th (amendment to the constitution) in Ireland but it's now time our sisters in Northern Ireland get the change so desperately overdue.
"Women who have abortions are not criminals, it's time the law stopped treating them as such."
Amnesty campaign manager Grainne Teggart said 62,000 people "are calling on the Northern Ireland Secretary of State to decriminalise abortion".
"All eyes are firmly on the Secretary of State to see how she'll respond. For too long our demands for equality have been ignored and our rights sacrificed for political expediency".
However, anti-abortion group Precious Life hit out at the involvement of the Derry Girls, accusing them of " abusing their very public profile".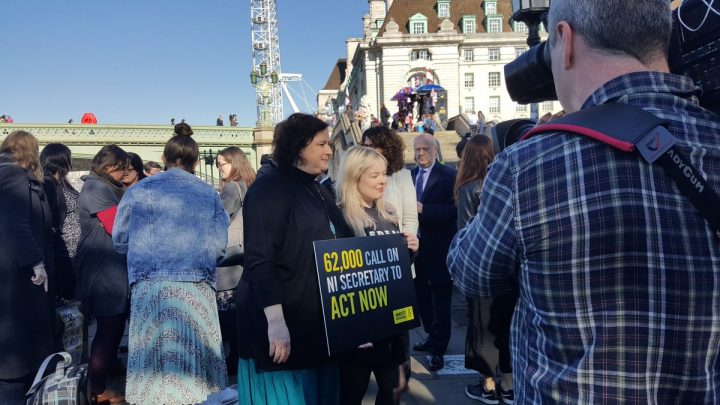 Spokeswoman Bernadette Smyth said: "Westminster has no right to override devolved democratic decisions.
"These actresses need to respect devolution and the democratic will of the people of Northern Ireland."
* The second series of Derry Girls will be screened at 9.15 pm on Tuesday, March 5, on Channel 4.
Tags:
STARS of hit comedy Derry Girls were among 28 women who marched on Westminster today to demand the extension of abortion rights to the North of Ireland.