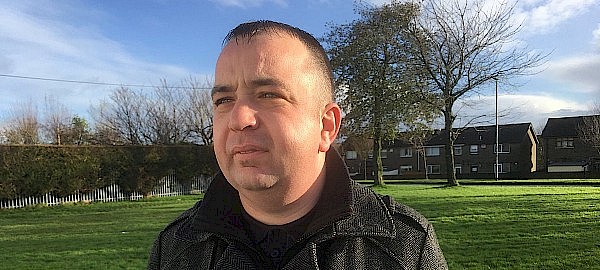 SDLP Councillor Brian Tierney has been selected to run in the upcoming Local Government Election for the Ballyarnett DEA.
Councillor Tierney, who is currently the Deputy Leader of the SDLP council group on Derry City and Strabane District Council, was selected to run by his fellow SDLP members.
Councillor Tierney commented: "I would like to thank our local membership for endorsing my candidacy to contest the Local Government Election on behalf of the SDLP.
"I was first co-opted onto DCSDC in 2013 and held the seat in the 2014 election. I has been an honour and privilege to work alongside such committed and hardworking councillors.
"Being a councillor is by no means an easy role but it is definitely one of the most rewarding jobs you can do. I can still remember the feeling I felt the first time I was able to help a young women get a house.
"I feel the exact same today when someone approaches me for help and in turn, doing all I can to assist them in whatever issue it may be, however difficult and seeing it through to the end by getting a result, means so much to me.
"Over my time on Council I have dealt with so many different issues on behalf of the party from the need for a report into detox services, highlighting the failings of Welfare Reform and tackling anti-social behaviour.
"I also faced down Dissident attacks in our community, a stand which came at a huge cost to me and my family.
"I have chaired a number of council committees. I currently chair the Bonfire working group and I sit on a number of bodies and council working groups on behalf of the SDLP.
"For me being a Councillor is in many ways a dual role. Yes, the work within the council chamber is important but equally the work in your community is as, if not, more important. It's that work and contact with constituents that informs your work within the chamber.
"I will continue to work to build a stronger community infrastructure; where residents of all ages can come and meet and engage with their neighbours.
"Therefore, when the Galliagh Community Centre, who I have worked alongside for a number of years, got the green light from planners a few months ago, I was delighted. It may surprise you but Galliagh, for its size, has never had a community centre.
"We have lots of community groups either taking up Housing Executive houses or flats which are badly needed within the area.
"I hope to see work start on the Galliagh Community Centre at the end of this year. Which will see £1.4 million of investment pumped into the area.
"I have been working on a similar project in Shantallow where the current centre is almost 50 years old and l hope to see work start in the early summer on this £1.8 Million project.
"I will continue to push for the re-development of Templemore Sports Complex and the dualing of the Buncranna Road which I hope will kick-start the much needed development at Arntz.
"I am committed to continuing to help and assist people with social housing applications and benefit enquiries.
"Our area has seen a number of housing developments build in Skeoge over the last number of years and only last week seen another 263 houses approved by planners.
"However, building houses isn't building communities without the proper community Infrastructure. I have been lobbing Housing associations to build proper communities.
"Now after 30+ years we are catching up with community Infrastructure in Galliagh and I don't want to see the same mistakes repeated in Skeoge.
"I am looking forward to an enjoyable campaign over the next few months and hope that the work I have been involved in over the last council term will stand me in good stead come May 2nd," added Cllr Tierney.
Tags: