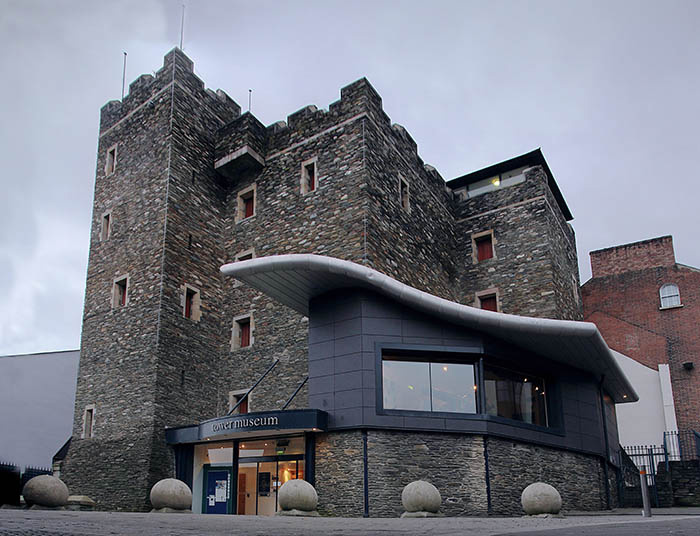 ALL eyes will be on the Tower Museum this weekend as the story of the Walls comes alive through a series of images projected onto the building's historic façade.
The projections are part of a year-long series of events celebrating the 400th anniversary of the completion of the city's iconic Walls.
It has been organised by Derry City and Strabane District Council and its partners The Honourable, The Irish Society – the builders and owners of the Walls – and the Department for Communities Historic Environment Division.
The images feature a series of beautiful hand sketches by local artist Seán Ó' Brógáin commissioned by the Council during the 400th year anniversary of the Plantation.
They portray a variety of scenes from Cahir O' Doherty's rebellion and the sacking of the city through to King James building of the Walls themselves.
Tower Museum Curator, Roisin Doherty, said they were looking forward to joining the anniversary celebrations.
"The Tower Museum itself is interconnected with the Walls and their rich history so it's fantastic to be included in the programme of events marking this significant anniversary for the city.
"We have many artefacts in our archives that contribute to the retelling of that story and over the next few months we will be involved with the Walls 400 programme in a variety of ways including a special exhibition dedicated to the Walls opening in the summer.
"I would encourage people to come and have a look at this beautiful series of works which really capture some of the key moments in the fabric of our city's history."
The projections are just one highlight in a full and vibrant programme for this significant heritage inspired anniversary.
A call out has also been issued to local groups to get them involved in the development of the programme which features an eclectic range of events including musical ensembles, dance, historical and contemporary exhibitions, symposiums, films, living archaeology demonstrations and workshops, visual arts exhibitions and much more.
Tourism Manager with Derry City and Strabane District Council, Jennifer O'Donnell said: "This celebration of the 400th anniversary of the completion of the Walls programme will provide a great opportunity for both visitors and locals alike to experience the Walled City at its very best.
"The wide array of events will engage the local community in bringing the Walls to life, and highlighting the role they have had to play in the growth and development of our fantastic city.
"I look forward to seeing the additional elements the Tower Museum will bring to the programme in terms of presenting the historic context of this major anniversary for the city."
For full programme details and information on how you can be a part of the Walled City 400 programme, go to www.walledcity400.com
The Tower Museum projection will begin this Friday, February 7, from 6 pm to 7 pm, and will repeat on Saturday, 8 and Sunday, 9 at the same times.
Tags: