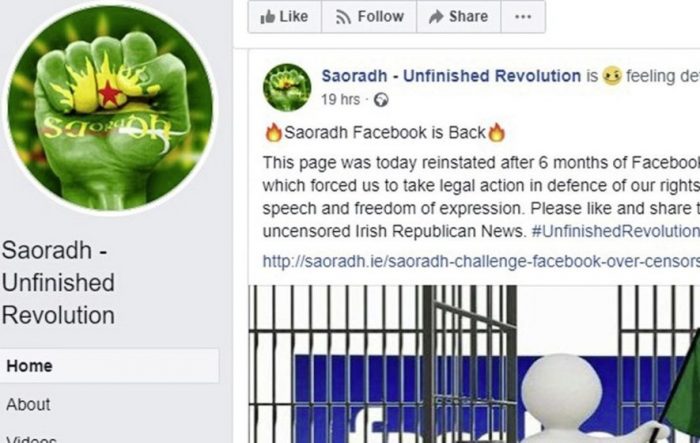 A Facebook page of a dissident republican party Saoradh which was removed from the site has reappeared just days after legal action was threatened.
Saoradh – which has its headquarters at Junior McDaid House in Derry's Chamberlain Street – had accused the social media giant of political discrimination after claims it removed pages last year.
However, the party's "national page" reappeared on Monday.
In a letter to its lawyer, Darragh Mackin of Phoenix Law, a law firm representing Facebook Ireland said it had "not discriminated against your client on the grounds of political opinion or otherwise".
It is understood shortly after the page was restored a video of a republican funeral in Derry was removed and an administrator banned for 30 days.
Mr Mackin had been seeking a court order to force Facebook to reinstate the pages, alleging it was a breach of the right to freedom of expression in the European Convention on Human Rights.
He told The Irish News: "The reinstatement of the Saoradh Facebook page is considerably important for the principle of freedom of expression.
"It can never be acceptable to allow social media giants to dictate as to who can and who cannot express their political opinion."
Tags: