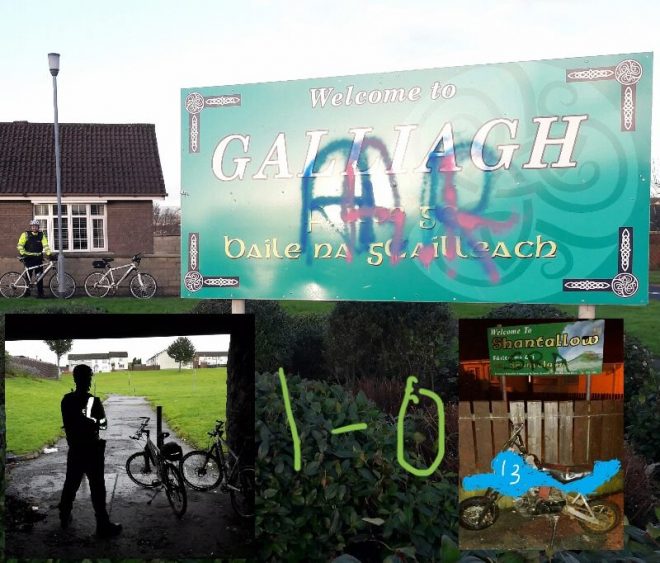 POLICE are jubilant after tracking down a male who has been terrorising residents in Shantallow on a motorbike in recent weeks.
Officers on pushbikes patrolling the area on Monday had a stroke of luck when they rode past his house and there he was…sitting at his front window with his headphones.
'The Shanty Whizzkid' was duly arrested under the Road Traffic (NI) Order for dangerous driving, no licence and no insurance.
PSNI Foyle say on its Facebook page: "Great to see an improvement in the weather ☉ and a quare stretch in the evenings 🌙 so we can ditch the ice skates 🎿🎿 and get the bicycles out again.
"Nearly everyone was glad 😂😂 to see us. We got plenty of waves 🤗, beeps and noticed the odd chuckle 😃 from passing motorist's along the way.
"However, as always there was one male who was not so happy 👹.
"Can you remember Evil Knievel 🏍 or known to some as the Shanty Whizz Kid.
"He was riding the wee blue motorbike around Ardnamoyle Park at the start of January.
"Well he has been actively avoiding 🏃 Ballyarnett Npt 🚔 ever since. That was until we cycled past his house yesteday.
"We couldn't believe it 😂 when we saw him sitting at the living room window with his headphones on.
"He got the shock of his life when we knocked on his window 🤗. We weren't delivering good news 📬📰 and we're wearing the bright yellow clothing.
"I think we also disturbed his netflix binge, so we'll excuse his colourful language 🌈 and put it down to shock.
"He will be reported for Dangerous Driving, No Driving Licence and No Insurance."
Tags: