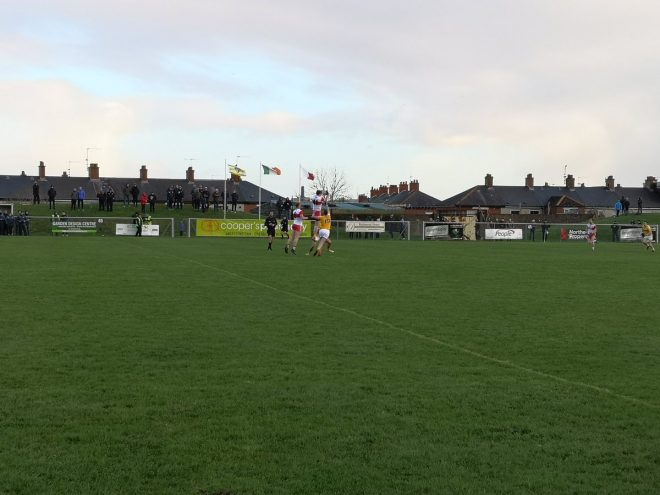 DERRY won their opening match of its Allianz League Division 4 encounter with Antrim this afternoon by a single point at a blustery Corrigans Park (throw in 2 pm).
It certainly was a game of two halves, with Derry dominating the for 35 minutes and going in at the break with a five point lead over Antrim – 0-06 to 0-01.
But it was Antrim who came out in the second half a different side and ran Derry close right into added time.
Derry missed a second goal opportunity in added time only for Padraig Cassidy to get the winning point to give Damian McErlain a much needed boost.
The game was only a few minutes old when McBride pointed for Antrim on 36 minutes.
And three minutes later Duffin cut the deficit to three point when he scored from open play.
Derry were then awarded a penalty and Shane McGuigan flashed the ball into the Antrim net.
After 41 minutes, Derry made a quick substitution with Michael McEvoy brought on to replace Jason Rocks.
But Antrim were back in the game when they were awarded a penalty and McBride converted from the spot.
Ten minutes into the second half Derry led by 1-7 to 1-3 after Paddy Coney pointed from open play.
Antrim's McBride was on the score sheet again when he pointed to cut the deficit to three points.
The gap narrowed again when Beattie pointed from game play on 55 minutes.
With the clocking ticking at 57 minutes, it was time for Damian McErlain to bring on some fresh legs and Jack Doherty and Niall Toner came on to replace Emmett Bradley and penalty scorer Shane McGuigan.
Enda Lynn was back on the score sheet with his second point of the match pointing from a free on 61 minutes giving Derry a lead of 1-8 to 1-5.
The three point lead was short lived and it was that man again Murray who pointed for Antrim making it a a two-point game on 65 minutes.
And two minutes later, the gap was down to a single score when McBride popped the ball over the Derry bar.
The game was tantasiling poised heading towards the final whistle with Derry's McFaul pointing before Antrim's McCormick quickly responded in kind.
But Antrim pressed on and McKeown quickly levelled the game with a point from open play – the match was all square at 1-09.
With four added minutes of play, the match was on a knife edge to see who would win their opening game of the Allianz League.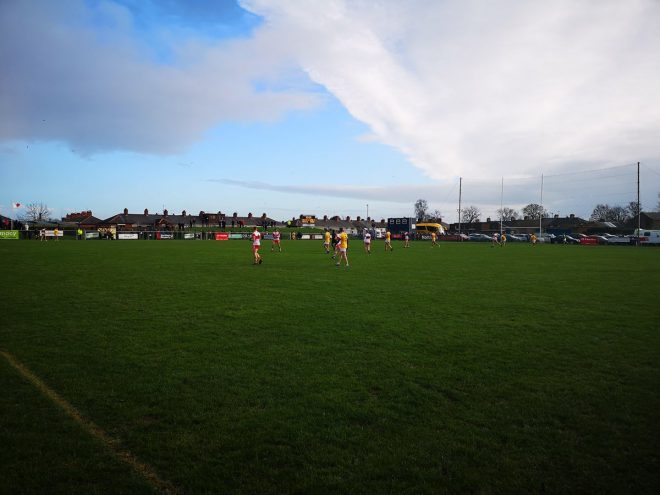 And there was further drama to come when Corey was fouled in the box and Derry were awarded a penalty.
But Enda Lynn's penalty is dramatically saved and the match remained all square as the added time drew to a close.
Derry still pressed for a winning score and Padraig Cassidy fistedd a point to give the Oak Leafers a slender one point lead.
And Cassidy's point was to be the final score of the match – Derry ran out winners by 1-10 to 1-09.
Next up for Derry in the Allianz League is a home clash against London on Sunday, February 3 at Watty Graham Park (throw in 1 pm).
Tags: