THE STATION House Hotel in Letterkenny is leading the way in local hospitality after becoming the first 3-star Hotel in Co. Donegal to complete Failte Ireland's Accredited Service Excellence Programme.
The industry training programme was completed by all of the Station House management and front facing staff to ensure the team delivers the best possible customer care to all visitors.
The workshop focussed on providing practical knowledge that covered areas such as best in service, customer standards, helping visitors make the most of their stay and enhancing their experience, cultural awareness and techniques they can use to promote the Letterkenny area and Donegal successfully.
With a focus on customer relationships and satisfaction, completion of the programme puts the Station House team at the forefront of quality hospitality in Donegal.
Commenting on the accomplishment, Station House Hotel Sales and Marketing Manager Shiloe Kelly said: "We have always prided ourselves on our customer care standards, guest focussed service has always been a priority for us and this accomplishment reflects the Station Houses commitment to setting the standard for service excellence, and the dedication of our employees to providing the ultimate guest experience, and that warm welcome Donegal people are renowned for!
"Everyone left the course on a high feeling enthused to go that to go that extra mile for every one of our visitors. It has helped us to greatly reinforce the value of excellent customer service and enhanced the value we put into investing in our team."
After a decade in business, the family owned, managed and directed Station House Hotel has garnered a reputation as one of the finest hotels in the region both locally and further afield as a prime location for conferences, quality accommodation, excellent food, family occasions, weddings, live entertainment and more, where value for money and top class service are always assured.
The hotel has previously won other hospitality prizes such as Wedding Venue of the Year award, 4 TripAdvisor Travellers Choice awards and TripAdvisors Certificate of Excellence awards for 8 years in a row – thereby inducting them into the illustrious Certificate Hall of Fame.
Hotel owner Brian Gallagher said: "We are delighted to win these awards, which recognise the efforts of our team, who work incredibly hard to maintain a high standard of both food and service at the Station House.
"These awards would not be possible without the team, each and every one of them walk through the door with a passion, they tell me every morning that they are excited to welcome the regulars and meet and serve new people. I couldn't be prouder of my amazing team!"
The Station House Supervalue offers:
Experience a unique taste sensation when you dine at the Station House Hotel. They have just launched their New Early Bird Menu 2 course for just €17.95
First Communions/Confirmations: Delicious 4 course just €19.95 per adult, children from just €4.50, Communion/Confirmation child eats FREE!
Steak Night: 2 10oz Sirloin Steaks with all the trimmings plus a side order of your choice just €28.50 for 2 people, amazing value and delicious!
Midweek Madness from 12noon to 3pm – Lunch available from just €7.50!
Friday Madness, available every Friday from 12noon to 3pm – Roast Dinner with Mashed Potatoes and Vegetables for just €6.25!
Sunday Carvery Lunch, 4 course just €19.50!
Extensive Lunch & Bar Menu also available.
For queries and reservations call: (074) 912 3100 or visit www.stationhouseletterkenny.com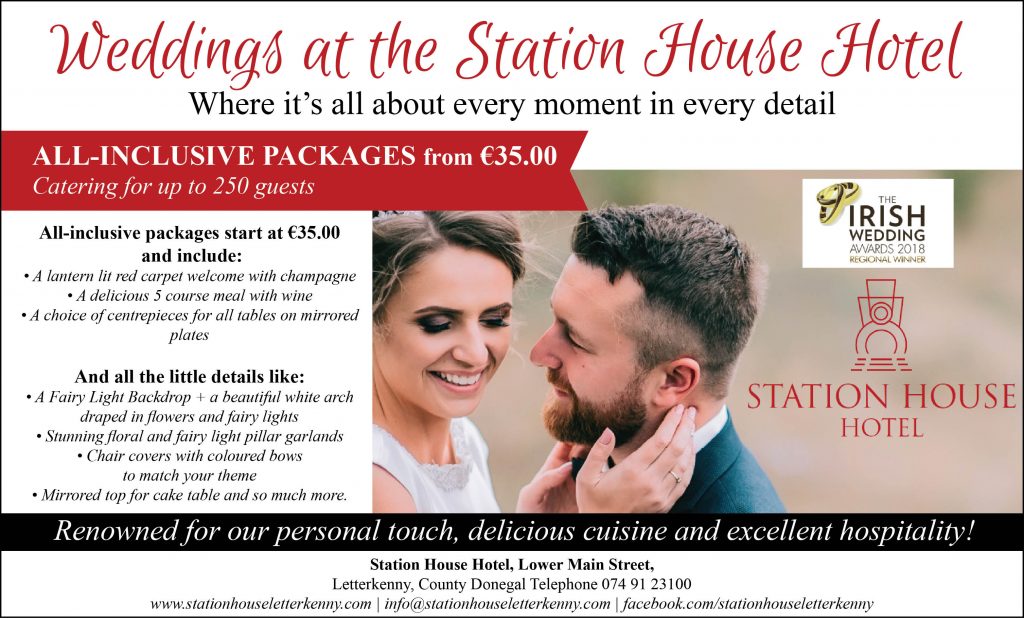 Tags: