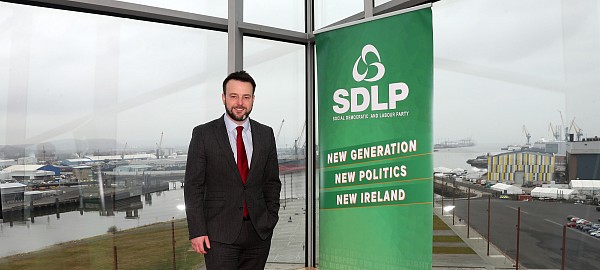 SDLP leader Colum Eastwood has written to British Prime Minister Theresa May telling her that the Backstop was vital in protecting the interests of the people and business sectors in the North of Ireland.
The letter comes as the Tory leader announced today that there will be a second vote on her Withdrawal Agreement proposals on Friday, January 25.
In his letter, the Foyle MLA wrote: "Following Tuesday's rejection of the Withdrawal Agreement by the House of Commons, I am writing to reiterate our strong view that the Backstop mechanism must be upheld to protect the interests of the people of Northern Ireland.
"On the 23 June 2016, the people of Northern Ireland expressed their clear wish to remain in the European Union; since that time their voice has either been misrepresented on the benches of Westminster or ignored altogether.
"The majority of people here, including business leaders, the agri-food sector and border communities are agreed that short of no Brexit at all, the Backstop is vital in protecting our interests here. This voice cannot be ignored.
"Despite deadlock in Westminster, the fact remains that there is no way to avoid a hard border in Ireland if Northern Ireland leaves the Customs Union and Single Market. That is why a Backstop is essential.
"Therefore, I am asking that you provide the people of Northern Ireland with a commitment that the British Government will not renege on the implementation of the Backstop," concluded the SDLP leader.
Tags: