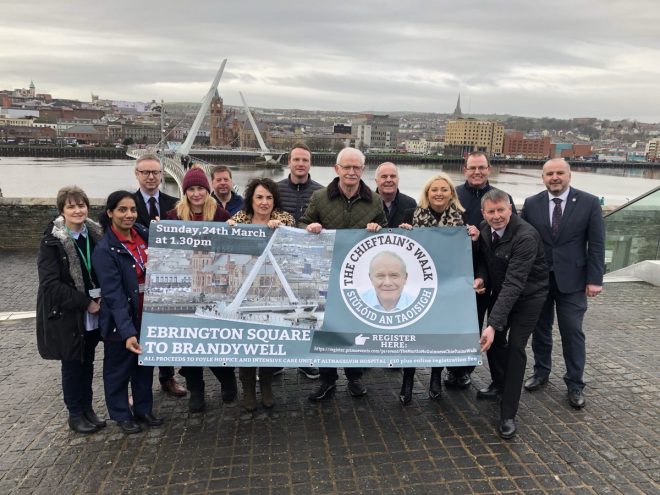 THE 2019 Chieftains Walk in memory of Martin Mc Guinness has been officially launched with a new route announced today.
Thousands took part in the inaugural walk last year and the Mc Guinness family are hoping for another huge turnout to raise funds for the Foyle Hospice and the Intensive Care Unit at Altnagelvin Hospital.
Fiachra Mc Guinness said: "We are delighted to confirm that the Chieftains Walk 2019 will take place on Sunday, March 24th, starting from Ebrington Square and finishing beside the Ryan McBride Brandywell Stadium.
"Last year was a very emotional experience for us as a family to see so many people turning out to remember our father and raise funds for the North West Cancer Centre.
"Once again, local charities will benefit from the walk so people can still register and donate even if they can't make it on the day.
"We would ask as many people as possible to do so because these are both fantastic causes. This year again, everyone who registers will receive a special memento of the day.
"We want to make the Chieftains Walk part of my father's legacy so we hope you can all join us again this year."
Explaining the significance of the new route, Conor Heaney from the Chieftain's Walk organising committee, said the Brandywell and Ebrington were hugely important sites to Martin Mc Guinness.
"I worked closely with Martin on the development of both Ebrington and the Brandywell. He very much saw them as key parts of Derry's regeneration which he was so passionate about.
"Ebrington in particular is a place that he saw as symbolic of the transformation that has taken place in Derry and which he did so much to bring about.
"Here is a site that was once a British military installation, now a key civic space, providing employment and investment as well as hosting some of the most memorable and positive events ever to take place in this city."
Donall Henderson, CEO Foyle Hospice, added: "Foyle Hospice is pleased to have been chosen along with Atlnagelvin Hospital Intensive Care as one of the beneficiaries of this year's Chieftains Walk.
"We'd like to thank the family and organising committee for choosing Foyle Hospice and hope that all participants have an enjoyable day.
"We are grateful for any funds raised which will help us continue to provide hospice and palliative care services to patients and families across the local community."
Register for the walk on: https://register.primoevents.com/ps/event/chieftainswalk2019
Registration is £10 and further details can be found on: https://m.facebook.com/TheChieftainsWalk/
Tags: