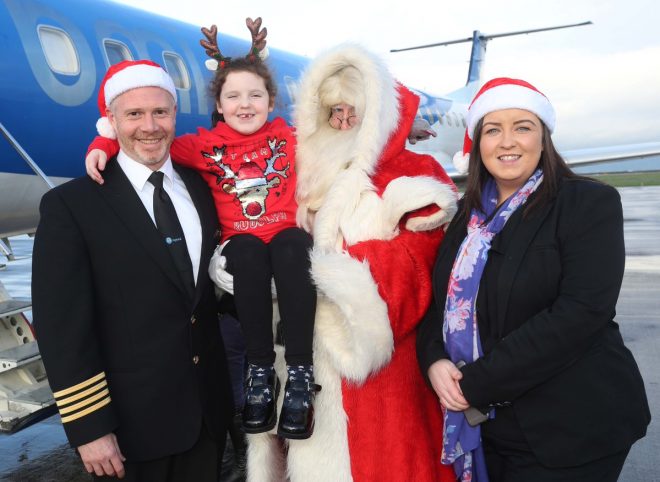 CITY of Derry Airport and flybmi teamed up to offer children from Ardnashee School & College in Derry/Londonderry a very special flight around the North West with Santa Claus.
Children and teachers from Ardnashee school arrived at the Airport on Wednesday 12th December 2018, where they were greeted by airport staff and flybmi crew ahead of their very special flight.
Santa arrived shortly after 10am with gifts and treats for all the boys and girls.
Airport Manager for City of Derry Airport, Charlene Shongo stated: "The airport was absolutely delighted to offer children from Ardnashee School & College a very unique and special experience with Santa from their local airport this Christmas.
"We wanted to give something back to the community where we work and live and to offer the children a very memorable and magical gift this Christmas.
"There was a great buzz and excitement throughout the terminal as we welcomed the children from Ardnashee school.
"The joy in their faces as Santa arrived with gifts and the excitement of taking a flight with him was fantastic.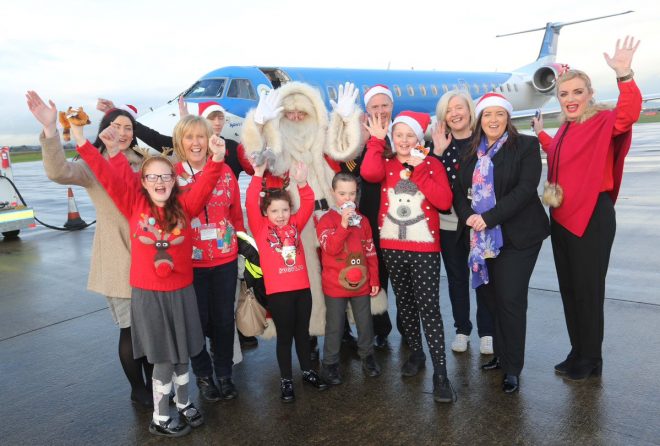 "Children sang songs and cheered during the flight and it was a real heartwarming experience.
"The airport staff and management are absolutely delighted we were able to facilitate this magical experience for the children from their local airport".
Charlene concluded: "This is the second year now that City of Derry Airport has teamed up with flybmi to host this Santa Flight.
"We are privileged to have been involved in this great initiative and to create a magical Christmas experience for the children."
Principal Raymond McFeeters and Vice Principals Imelda Mallon and Donna Cartin said: "Today has been the most wonderful experience for our Ardnashee pupils today, it was a magical time and the pupils' dreams really did true when they met Santa who accompanied them on an amazing flight around the North West Coast.
"The children absolutely loved their time at the airport, the presents they received and meeting the brilliant staff from City of Derry Airport and flybmi.
"The staff provided them with such a warm welcome and for some helped them overcome their fears of flying.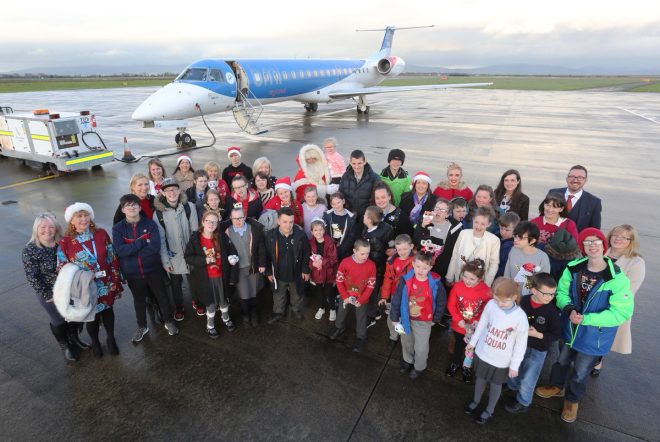 "One pupil said he always wanted to get up in the clouds and today his dreams came true.
"Sincere thanks to all involved in the co-ordination of this fantastic experience".
Jochen Schnadt, Managing Director of flybmi, said: "We feel privileged to have had the opportunity to team up with the City of Derry Airport for a second year in a row to provide the children of Ardnashee School & College with this magical Christmas experience.
"We hear that Santa had a great time on board, trading his sleigh for our Embraer jet and in turn, giving his reindeers some much needed rest before Christmas Eve."
Tags: