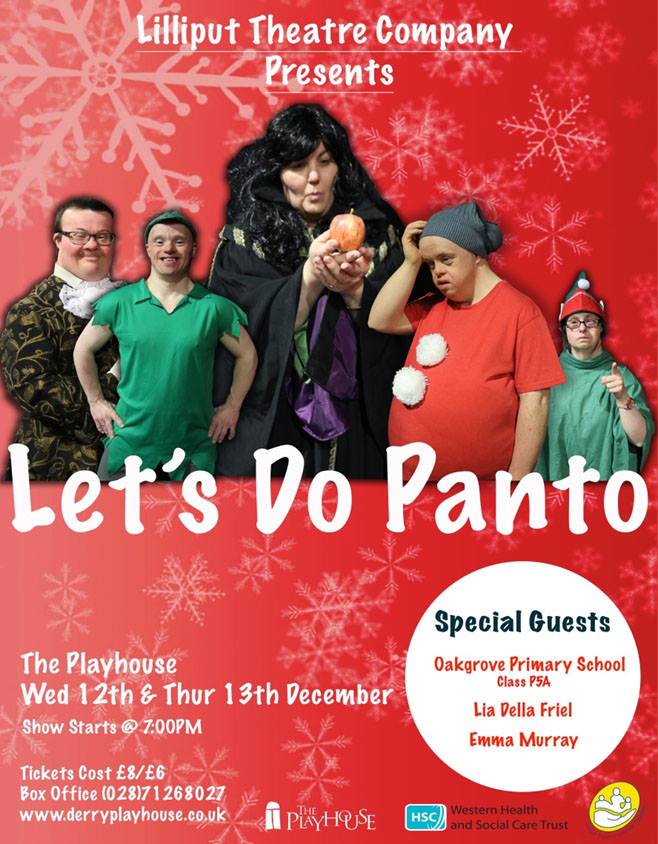 THE Western Trust's Lilliput Theatre Company is delighted to present their very first Panto at The Playhouse, 5-7 Artillery Street, Derry – Let's Do Panto!
The Panto will take place on Wednesday 12th and Thursday 13th December 2018 at 7pm in Lilliput Theatre Company, Playhouse 5-7 Artillery Street, Derry/Londonderry.
Ticket costs – £8.00 Adults and Senior Citizen/Children under 16 – £6.00 and can be purchased through the Box Office on Tel: (028) 71268027 or pay at the door.
Clare-Ellen Duddy, Senior Day Care Worker, Liliput Theatre Company said: "It's that time of year again when we all look for something that has that "Christmassy feel" to get us in the spirit, well in true Lilliput style and to accommodate the 22 passionately talented actors Lilliput Theatre Company presents Let's Do Panto – a cleverly written piece by Brian Hassan, Care Assistant at Lilliput, featuring a few of everyone's favourite and iconic panto scenes including Snow White and the Seven Dwarfs, Cinderella and Peter Pan.
Clare added: "Our actors have been rehearsing over the past six months and are looking forward to welcoming family, friends and the local community to their first every panto production.
"This production is supported by media students from the North West Regional College and we are grateful for their assistance in producing a short video clip of behind the scenes as the actor rehearse for this panto debut can now be view on Youtube by searching 'Let's do Panto!'
"A huge thank you to Jessica Ogilvie a student from St Cecilia's College, Derry for stepping in to help as a last minute replacement panto character!
"We are also delighted to welcome some special guests from within our local community including Oakgrove Primary School (P5A); Lia Della Friel and Emma Murray.
"Certainly an evening not to be missed… oh no it's not, oh yes it is!"
For more information please contact Clare-Ellen Duddy, Senior Day Care Worker, Lilliput Theatre Company on M: 07342061591 or through the Box Office on Tel: (028) 71 268 027.
Tags: