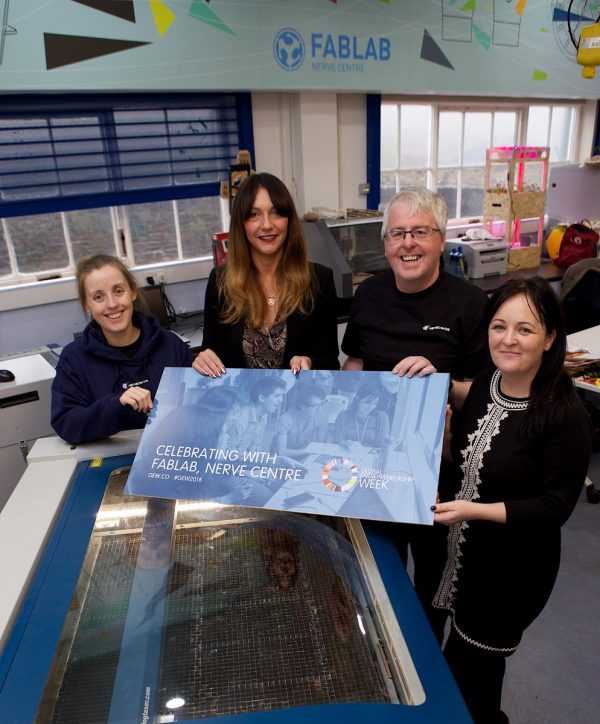 A series of initiatives to celebrate Global Entrepreneurship Week that is taking place on 12-16 November is being organised by Derry City and Strabane District Council's Business team in conjunction with partners including Fab Lab (Nerve Centre), Innovate NI and Enterprise NW.
Announcing details of Global Entrepreneurship Week, the Mayor of Derry City and Strabane District Council Cllr John Boyle said Council was very keen to be part of the celebration and to showcase the fantastic work being done locally by innovators, job creators and entrepreneurs across the Council area.
He said: "We are delighted to be part of Global Entrepreneurship Week and to showcase all the work that is being done by those involved in promoting business start-ups and who are responsible for bringing ideas to life and drive economic growth.
"Our business team and local partners have a series of events taking place throughout the week aimed at inspiring businesses to explore their potential as self-starters and innovators."
Among the events taking place during the week are a Techies in Residence event and a social entrepreneur pitching competition and a fully accredited Digital Fabrication programme for local entrepreneurs that is being delivered by the FabLab.
Speaking ahead of the Global Entrepreneurship Week, Business Development Manager with Derry City and Strabane District Council Louise Breslin said it's a great opportunity to introduce new opportunities for businesses and to encourage potential business start-ups to launch their own ventures and avail of the advice and support that is available.
She explained that one of the highlights of the week is the launch of Social Enterprise £1k Pitching competition that encourages groups and social entrepreneurs to apply for a Social Enterprise Pitching Competition that will assist them in delivering project ideas with the chance of getting shortlisted to pitch for a £1,000 prize package.
"This competition is designed to reward and encourage creativity, talent and innovative ideas within social enterprise.
"It will provide assistance both financially and through business support services to allow them to grow and the pitch will take place during Enterprise Week in March.
"Another key element of the week will be a Techies in Residence event at the Holywell Trust Bishop Street on Tuesday 13 November from 12.30pm to 2pm. The event is aimed at social enterprises, social entrepreneurs and those working in the third sector."
Louise added that the team are also delighted to be working with the FabLab to deliver on the Digital Fabrication programme.
She added: "We are delighted to be working in partnership with the FabLab to deliver this OCN level 2 course that will allow business to learn new skills in modern design and manufacturing techniques.
"It's hugely innovative and will greatly assist businesses in enhancing their business offering.
"Those interested can register by contacting the Council's business team."
Encouraging participation in all of the events, Louise Breslin said it is a great way of helping to transform the community and social enterprise sectors.
"During one week each November nearly 10m people in 170 countries celebrate Global Entrepreneurship Week through thousands of events, activities and competitions – it's a chance for them to unleash their ideas and make it possible for anyone, anywhere to start and scale a business and we are delighted to be part of it."
Council will also use Global Enterprise Week to launch an exciting new initiative to support local companies in the Council area who want to expand into international markets.
The Export Ready Programme is a workshop based scheme where advisers will guide companies through the process of exporting goods and services.
Participants will receive professional export advice, practical information and useful tools to ensure success in exporting to international markets.
This is a unique opportunity with benefits of the scheme to businesses including lowering the risk of export, understanding your market and putting your export plan in place.
For more information contact the Investment Team at DCSDC investment@derrystrabane.com.
For more info on Derry City and Strabane District Council's Global Entrepreneurship Week programme of events visit https://genglobal.org/global-find-event; #GEW2018.
Tags: