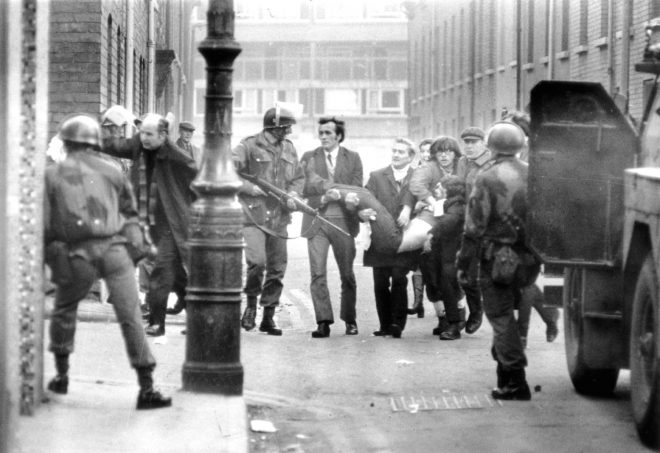 DAMAGES worth more than £900,000 are to be paid out in compensation claims brought over the Bloody Sunday killings shootings in Londonderry.
The families of nine of those killed by British soldiers in the city in January 1972 are to be paid £75,000 each.
Another five people wounded are to receive £50,000.
Thirteen people died after members of the Army's Parachute Regiment opened fire on civil rights demonstrators.
The resolutions were confirmed at the High Court on Thursday as part of a series of lawsuits against the Ministry of Defence (MOD).
Claims were brought by victims and their families after a major tribunal established the innocence of all those shot.
The Saville Inquiry's findings in 2010 prompted the then Prime Minister, David Cameron, to publicly apologise for the actions of the soldiers.
He described the killings as "unjustified and unjustifiable".
With liability accepted, the cases centred on the level of damages to be paid out.
Last month a judge awarded Michael Quinn £193,000 for injuries inflicted when he was shot in the face as a schoolboy on Bloody Sunday.
That led to settlements being announced in another two test cases.
The widow of Gerry McKinney, a father-of-eight, received £625,000 compensation for his death.
A pay-out of £75,000 was also agreed for the family of Michael McDaid, 20, over his killing.
Lawyers returned to court on Thursday morning to announce resolutions in similar actions featuring unmarried victims with no dependants at the time.
The 14 cases involved a combined total of £925,000 in damages, plus costs.
A judge was also told that further discussions are to take place in the remaining lawsuits.
Listing those cases for a review in December, Mr Justice McAlinden said: "I congratulate the parties' representatives for the work they are doing in resolving these very sensitive and difficult matters."
Outside court, solicitor Fearghal Shiels, who acted for some of the families, said they welcomed the settlements and hoped to "achieve satisfactory outcomes in the remaining actions as soon as possible".
Tags: