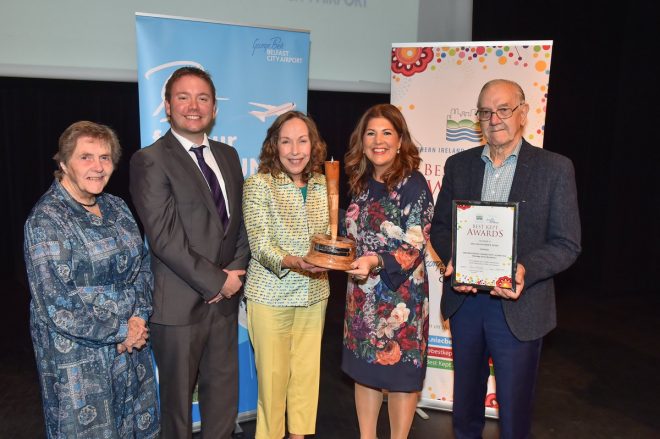 DERRY has been crowned '2018 Best Kept City' at the NI Amenity Council awards in Enniskillen this week – with newlyweds Jim and Maureen Nelis also picking up a prestigious 'Community Achiever' award.
Derry was hailed as 'spotless, well-structured and colourful' by the judges at the 2018 Best Kept City Awards in association with George Best International Airport – with Jim and Maureen Nelis singled out for their exceptional floral displays and wonderful community spirit!
Jim and Maureen, who were both previously widowed, married in January.
They decided that instead of spending a lot of money travelling to Italy on their honeymoon that they would bring beauty to their own doorstep, by saying it with flowers.
The couple decorated their home and all of their neighbours' houses with fresh blooms. They injected colour into the Harding Street and Abercorn Terrace area with window boxes, hanging baskets and floral decorations.
Indeed, their amazing act of kindness has dramatically changed the appearance of the area.
Their story is an example of the incredible human kindness and community spirit that exists in Derry – which has helped to bring people together as neighbours now out watering each other's plants and significantly boosting community morale!
Welcoming the accolades for both the city and Jim & Maureen Nelis – who were nominated by Derry City and Strabane District Council for the 'Community Achiever' award – Streetscape Manager John Quinn said:
"The Best Kept City award is symbolic of the hard work, attention to detail and dedication of our fantastic Grounds Maintenance and Cleansing Teams who work throughout the year in all kinds of weather and conditions to make our city beautiful.
"A special mention also to the amazing Jim and Maureen Nelis of Harding Street who won the Community Achiever award for their incredible generosity, spirit and vision in transforming their street into a really beautiful space.
"This couple epitomise the goodness and pride of place of Derry people and I'm delighted that their efforts to improve their community have been recognised through this award."
Tags: