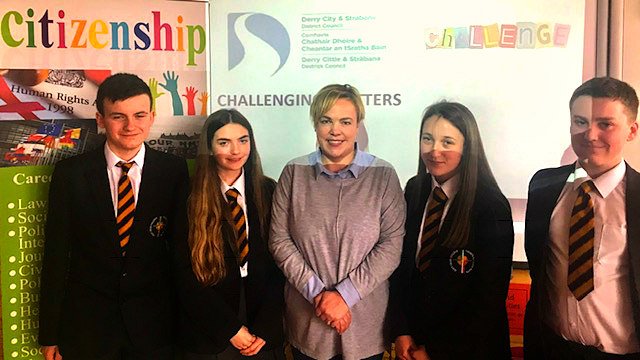 DERRY City and Strabane District Council have launched a new initiative aimed at promoting tolerance and respect for diversity by encouraging students from local post primary schools to participate in 'Challenging Chats'.
The new 'Challenging Matters' initiative coincides with 'Hate Crime Awareness Week' and is targeting Year 10 pupils in schools across the City and District with two key elements – 'Challenging Chats' and 'Challenge In Action'.
Both elements of the new initiative are seeking to 'build bridges' by facilitating conversations on a range of difficult and often controversial topics including bonfires, marches, 'Remembering 1918-22', the 'Troubles' – and issues dealing with minority groups (including LGBT, migrants and travellers).
Throughout the series of discussions and interactive workshops, the Good Relations team from Derry City and Strabane District Council aim to ensure that young people are given the opportunity to discuss the rich diversity of our people and cultures in a familiar setting that will help to foster knowledge, openness and communication.
Carol Stewart, Good Relations officer at Derry City and Strabane District Council, said: "I am delighted that Council is leading on this important initiative which will promote tolerance and 'build bridges' around some challenging topics.
"We aim to bring speakers to our local schools who will be from various walks of life and backgrounds – representing different identities and issues.
"The conversations will then take the format of café style table discussions in the Assembly Hall or possibly even classroom-based events – whatever suits best for the individual school.
"The speaker will talk for a few minutes to introduce themselves and provide the students with some background on their identity or issue. They will then start off the discussions and encourage the pupils to ask questions and take part in some "Challenging Chats".
"This important initiative will help students better understand other people's viewpoints and perspectives – which can only be appreciated by meeting the speakers in person and having challenging conversations.
"Indeed, from our past experience the Good Relations team has found that most young people possess both the ability and the desire to learn about challenging or sensitive subjects.
"I therefore have no doubts that the new 'Challenging Chats' will provide students with an opportunity to reflect on some of their commonly held assumptions and will have a positive impact on classrooms and students throughout the City and District.
"I would also encourage as many schools as possible to sign up to the new 'Challenging Matters' initiative and join us in the Good Relations team in our fight against prejudice and hate!"
For further information on the new 'Challenging Matters' initiative and to take part please contact Carol Stewart, Good Relations officer at Derry City and Strabane District Council on 02871 253253 ext 4297 or email carol.stewart@derrystrabane.com
Tags: