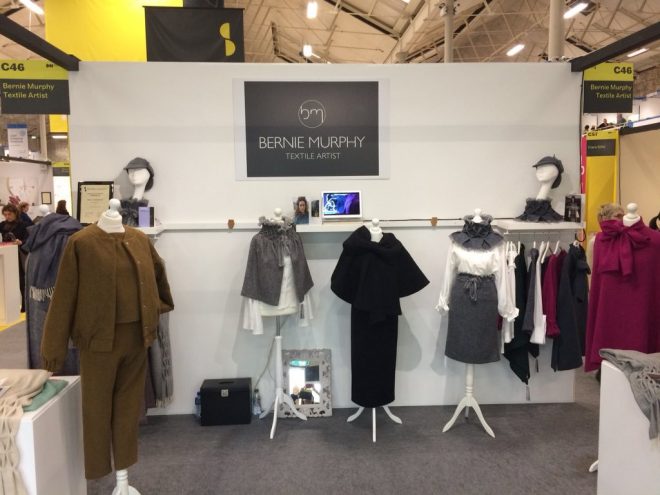 THIS weekend the Guildhall's Main Hall will be transformed for a glittering gala celebration as Fashion Fest 2018 serves up another tantalising taste of catwalk glamour.
The show, which takes place on Saturday, October 13, is the perfect platform for local designers to showcase their work alongside leading labels in the fashion industry and celebrates the emerging talent that is making the city's name as an exciting new fashion hub.
Among the top local talents supporting the event this year is textile artist Bernie Murphy, who has been a proponent of the local fashion industry for a number of years.
With a career that extends back to her first job in the local shirt industry, Bernie has a deep-rooted connection with textiles that has blossomed since she left the factory floor and established her profile as a cutting-edge Irish artist with a growing international profile.
Bernie is just putting the final touches to a number of original pieces which she will unveil at Fashion Fest on Saturday – in the midst of preparing orders for a growing portfolio of Irish and international clients. And demand for local textiles is continuing to grow, as she explains.
"I began working in Fruit of the Loom as a Garment Technologist," she recalls.
"Which was basically a hands-on role dealing with all the aspects of daily manufacturing, from the patterns or prototypes right through the production line.
"When I was made redundant from Fruit of the Loom in 2006 my daughter was studying at the National College of Art and Design in Dublin and it inspired me to be a bit more creative. Having the technical skills required for pattern drafting and garment construction, I found this was my opportunity to explore my talents in design.
"I like to think of my work as wearable art. I consciously try to make my pieces unique as well as functional, a heritage style, they can be kept and passed down.
"It's not intended to follow a trend or to compete with fast fashion – I hope that these pieces will be treasured and passed on to a new generation."
Bernie is based in Donegal, working between Derry and Buncrana, and finds that living in the North West is the perfect place to do business for designers.
"There is a great market at the minute for Irish textiles – people love Donegal tweed. But there is a definite shift away from the traditional 'twee' tweed towards the more contemporary styles, which is fantastic for my work.
"I try to push the boundaries when it comes to using traditional fabrics in modern and more dynamic ways.
"The web is fantastic for us designers as we can showcase our work to audiences anywhere. And Skype is essential for me – it means I can deal with my clients wherever they are based – Dublin, London or Germany.
"It opens up a whole new market and reduces the need to travel so much though I still try to do as much as I can in person."
Derry has always been proud of its historic connection to the textile industry which supported local families in the shirt factories through years of poverty and trouble.
With the decline of the industry also comes a loss of the skills which had traditionally been passed down through generations of local women.
As well as working on her own collections, Bernie is passionate about teaching young people the art of sewing and needlework and reigniting interest in the skills which have been made redundant since clothing has become such a cheap commodity.
She does this through her work with the North West Regional College where she teaches part-time.
"I find it sad that there are so few people left in the clothing manufacturing industry locally – most of the bigger names have gone.
"It's extremely difficult to get skilled workers now to actually make the clothes. I noticed that most of the locally skilled seamstresses are an older generation now and I fear that those skills will be completely lost to the next generations.
"I would love to see the revival of those skills and when I can I do workshops with young people and teach them some of the basics of the craft.
"It's amazing to see them starting out not knowing the difference between a needle and a pin and what they can learn to make in a short amount of time.
"The problem is that they don't teach it in the schools any more so there is very little opportunity for them to learn."
Events like Fashion Fest are also essential in providing support for the local industry and a platform for new talent.
"I think events like Fashion Fest are so essential in giving designers the chance to showcase their work against the backdrop of a proper show. I've been involved in the past two events and I think it's a great opportunity to allow people to really see the work of local artists and designers.
"Fashion Fest Showcase lets people see the materials and how they're worn first hand to really appreciate them, photographs are great but you can't see the craftsmanship in them to do them justice.
"I'm really looking forward to this year's event, based on the successes of the past few years I know it's going to be a great evening.
"Sometimes as a designer, you can feel quite isolated as you work independently quite a lot. This is a great opportunity to network, meet new potential clients and really celebrate the fantastic work that is happening here in the North West."
The Fashion Showcase event will be dazzling audiences with an array of classic and contemporary couture on Saturday October 13th, including a collection by celebrity stylist and esteemed fashion designer Kate Halfpenny who will be showing pieces from her bridal collection as well as her 'Black Edit Collection'.
You can find out more about Fashion Fest and purchase tickets for the event at www.derrystrabane.com/fashionfest
Tickets are also available at the Guildhall, Derry and the Alley Theatre, Strabane. Follow us on Instagram @FashionFestDerry
Tags: