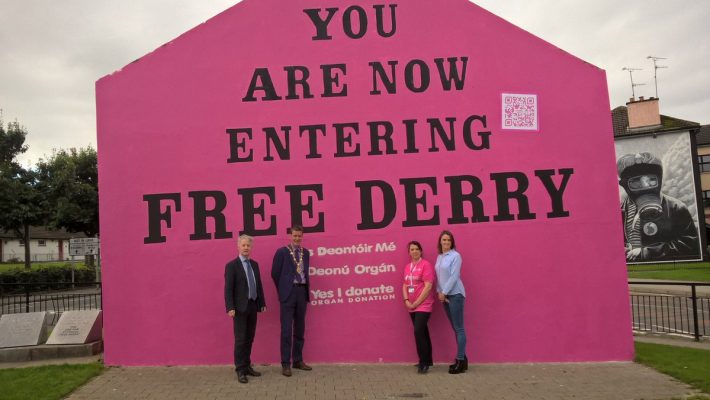 THE Western Trust have apologised to a UUP MLA who criticized the use of Derry's Free Derry Corner to promote Organ Donation Week.
The gable wall has been painted pink to encourage people to take part in organ donation.
Fermanagh and South Tyrone MLA Rosemary Barton said it was "abhorrent" that the Western Trust would use Free Derry Corner to promote the cause.
A Western Trust spokesperson that they contacted Mrs Barton directly to explain the objectives of the campaign and apologise for any offence caused.
Free Derry Corner is repainted throughout the year to highlight various charity events and good causes including the city's Pride Festival.
In a tweet Mrs Barton said "Abhorrent of the Western Health and Social Care Trust to use an overt Irish Republican symbol and location (often used by violent republican groups) to promote Organ Donation Week.
"It seems they are promoting the Irish Republican viewpoint rather than organ donation. Poor decision," she wrote.
The Western Trust posted a picture of the freshly painted Free Derry Corner on their Facebook page and encouraged people to support organ donation.
A Trust spokesperson said it was one of a number of landmarks to be lit up to mark the campaign.
"A campaign to light up or paint recognisable landmarks and buildings was devised to mark National Organ Donation Week ( 3 to 9 September).
"This also included lighting up the Guildhall Clock face, Derry City and Strabane District Council offices, Strule Arts Centre (Omagh), Enniskillen Castle and Fermanagh and Omagh District Council offices," the spokesperson said.
"The Western Trust has spoken with Mrs Rosemary Barton directly, explained the wider objectives of the campaign and have apologised if this has caused any offence to Mrs Barton.
"On average 16 patients die annually in Northern Ireland while waiting for a life-saving organ transplant.
"Thus, it is vital that everyone considers becoming a donor, registers as a potential donor and informs their next of kin of their decision to do so. Together we can and we shall save many lives."
Free Derry Corner is a free standing wall that in the city's Bogside area which commemorates 'Free Derry' a republican controlled area of the city during the Troubles.
'You are now entering Free Derry' was painted on the side of a house in the area in January 1969 and when the houses were demolished the wall was retained.
Tags: