AN eager Sean McGlinchey is champing at the bit to get back inside the squared-circle after the Derry middleweight was issued his boxing license from the (BUI) Boxing Union of Ireland.
After a long, frustrating, five-month wait, the Creggan man got his boxing license in hand on Wednesday afternoon.
With the boxer, 2-0, anxious to get back down to business inside the ring, he had to put up his longest fight to date – saving his career.
After suffering an injury during a sparring session in December 2017, which left him hospitalised for five days, the British Boxing Board of Control (BBBoC) suspended his license – with the governing body investigating underlying medical conditions.
McGlinchey, 25, has insisted previously his suspension was 'unfounded' – with the BBBoC continually delaying the distribution of his professional boxing license for months.
Frustrated, 'Mummy's Bhoy' turned elsewhere – admitting it was a great feeling' to put that period behind him.
"It is exciting in one aspect, but frustrating on another, trying to get on a (boxing) show – trying to get back in the ring hasn't been easy," he said.
"The license is here now, I always knew the license would've come but to have it in my hand now is a great feeling.
"I was told I would have it so many times but the British Boxing Board have put a few stoppers on it and continued to hold it up."
The 2012 Commonwealth Games bronze medallist had a judgment to make on his future – applying for an Irish boxing license or continuing his already long battle with the BBBoC.
"So, we had a decision to either stay with the British (Boxing Board) or go with Irish (Boxing).
"The way the British board treated me from the very start, from the suspension, I didn't like the way they handled it and trying to get things sorted with them, they were hard to work with. So, I decided to go the Irish route.
"After what I would describe as a Facebook troll, who targeted me on social media about an injury that I had suffered, which in my view, the doctors that I had gave me the all clear before I even agreed to fight, there was never any question I couldn't box," he added.
"So, these rumours were about and I got a letter one day from the British Boxing Board of Control and they told me that I was suspended.
"I wasn't asked my view, I wasn't asked what was going on, I was only told that I was suspended and I had to produce medical records."
"Once the medical records were looked at, which took months, there was nothing I could do about it.
"I had already chatted with family and my manager about going for the Irish license.
"The British board then proceed to say that they didn't receive medicals, which they did. I also got a declaration, after a phone call, which said I had been given back my license and my suspension had been lifted.
"At that point, I got on the phone to the BUI and told them to go ahead and process my application, but the British board then told me that there had been a misunderstanding and my suspension hadn't been lifted."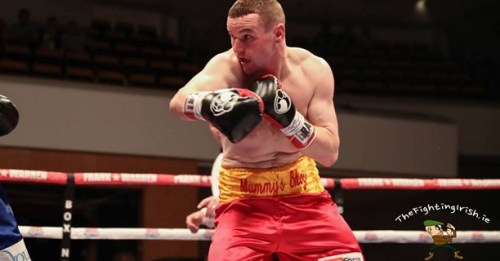 Struggling with the hold-up of his career, the 25-year-old admitted, he contemplated hanging his gloves up once and for all.
"I sat down with my father, who has been involved with me since I started boxing," he said. "He has been in my corner for all my fights and he told me that he would understand if I never boxed again.
"This was around the same time I was telling my family that I was packing my career in. He told me that I would regret it because of what he thinks of my talent, but he would respect my choice.
"He told me when I was waiting for my license, he would understand on this occasion because he knew that it would turn any man away from the sport, but after some bad days, I got back in the gym, and I haven't stopped training since, really."
A frustrating pattern continued to linger over the boxers head before he decided enough was enough.
"I got local councillor's and a solicitor involved and when that happened, it was sorted within twenty-four hours, so I don't know what the hold up was to this day.
"It was a long process, and now I've got the Irish license, it feels great and it all about getting a fight date sorted."
The unwanted drama McGlinchey was entailed with, originally involved the Last Man Standing prize-fighter competition in March, an event he was due to take part in before his suspension.
McGlinchey was one of the favourites for the lucrative €25,000 winners' purse but he now thinks of it as a blessing in disguise.
"I'm glad I didn't enter the competition with the revelations coming out now," McGlinchey said.
"You have Roy Sheahan (Winner of Last Man Standing) who hasn't even got paid and from what I've seen on Facebook, there is trouble with fighters getting paid from that competition and I would've been in the same position.
"Also, at the time of the Last Man Standing event, I actually got a new job.
"I would've had to cut back my hours to train for the competition. Hearing now that fighters are not actually getting paid, it was a godsend in the end."
Focusing on the future, McGlinchey is keen on returning to the ring before the end of the year, revealing negotiations are already underway.
"My manager and I have been negotiating with a few places to get a fight," he added.
"Right now, it is all about getting back in the ring and getting rid of the ring rust and if my luck has turned, I hope to fight two or three times before Christmas.
"I want to be kept busy and I've already been in serious camp now the last four weeks because I had a feeling the license would come.
"I am as hungry as ever to get back in and I am very excited – it is just a matter of when."
Tags: