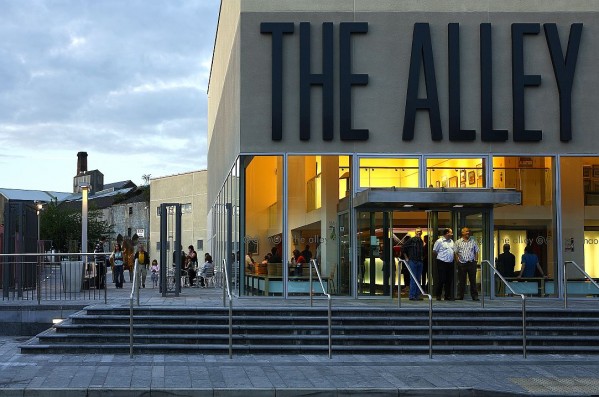 LOCAL musicians and singer /songwriters Liam Cannon, Darren Doherty and Jack O'Kane from rock band 'Indecision' have launched an exciting new programme of events at the Alley Theatre.
With a new Autumn / Winter programme out now and full to the brim with over 60 events – including exhibitions entertainment, community events and workshops from September through to January – there really is something for everyone!
Jacqui Doherty, Venue Manager at the Alley Theatre, said: "After a busy Summer, we are looking forward to an even busier Autumn / Winter season.
"We would love to welcome everyone to the Alley for a superb evening of entertainment. Tickets are already selling fast for shows such as Neil Delamere, Mike Denver and Conal Gallen!
"Indecision's Liam, Darren and Jack launched the new programme ahead of their forthcoming gig on 7th September – 'Aw That's Mental' – which also features Hughie Doherty, Clara McHugh and a few surprise special guests.
"Hosted by Liam, the evening will aim to raise awareness of mental health and addiction through fantastic live music and some personal stories. In association with AYE Strabane proceeds will go to the development of a drop-in centre in Strabane for mental health and addiction.
"Other music highlights to look forward to are 'The Four of Us' on 1st September and Tyrone Pipers Day – featuring a full afternoon of workshops and an evening concert by Fred Morrison and Paddy Keenan – a must see for all lovers of pipe and Uilleann music!
"An action-packed journey of music, dancing and laughter is in store as accordionist Leonard Brown brings his all-star show in October, featuring Gene Fitzpatrick, Chrissy Mac and Smith McCarron Irish Dancers.
"Also in October the hottest group in folk music at the moment 'Connla' will be here with their innovative arrangements of traditional and modern folk songs.
"Country music fans can look forward to performances from Mike Denver, John McNicholl and the brilliant JP McCauley who will be back with 'Cash Returns' in December.
"The mesmerizing voice of Niamh Kavanagah will be at the Alley in November, as will the 'Illegals' – a 40th anniversary special with music from two legendary bands The Eagles and Fleetwood Mac.
"Other music performances to look forward to are Paddy Casey, Eurovision contestant Ryan O'Shaunhnessy, The Logues and The Indians.
"There will also be some fabulous choral groups coming with the welcome return of Strabane Chamber Choir, Finn Valley Men's Choir and Stand Up and Sing – facilitated by Allegri in partnership with City Of Derry International Choir Festival.
"Something to also look forward to is our spooktacular Halloween events which include the return of the Arts Academy with this year's Halloween Panto 'Zombie Nights', our Halloween Cinema Day with Disney's animated film Coco.
"There will also be freakishly good workshops to revamp your Halloween costumes, horror story writing plus the very popular trick or trail tours, along with Parky's magic show and storytelling.
"Comedy laughs to tickle your funny bones can also be expected with The Blame Game's Neil Delamere. Neil brings his new show 'Controlled Substance' to Strabane after performing here in May with The Blame Game.
"Comedian Shane Todd brings his new stand up show 'Hero' in October. Shane has a BBC radio show, supported Bill Burr and has gained a massive online following with his sketches and character videos – which is definitely not to be missed.
"Fans of Dave Allen will also love 'From the Cradle to the Grave' – The Dave Allen Story told by Kieran Cunningham through the re-enactment of his famous stage show.
"We are also delighted to be welcoming award-winning drama groups this season such as Dyad Productions with The Time Machine in September.
"Having received 5 stars at the Edinburgh Fringe Festival, Rebecca Vaughan will also present Elton Townsend Jones' radical new interpretation of HG Wells' journey into tomorrow.
"Strabane's 'Bard Theatre Group' bring their original play 'Silence' in October. Directed by Andrew Tinney 'Silence' is an original script set in 1718. C21 Theatre Company make also a welcome return with their one woman show 'It Only Takes a Minute' in November.
"Indeed, Take That fans will love the music as it focuses on the life of Michelle, a young female with Asperger's who reflects on her life growing up in the 90's when her only true friends were Gary Barlow and 'Take That'.
"Magic tricks and comedy are also in store as 'A Disappearing Act' comes to the Alley in September – an immersive, magic-filled comedy for older children and adults from magician Philip Winterbottom.
"As part of 'Culture Night' this group will also be offering intergenerational workshops focusing on games and exercises to bring together young and older people.
"Scotland's favourite psychic Carol Magee will also be here early in September – so don't' miss her new and most exciting jaw dropping show yet!
"Throughout the Autumn we will also have an extensive arts development programme to encourage adults and children to get creative. Workshops include ceramics, portraiture, make your own Christmas door wreath, poetry, glazing and Halloween workshops.
"As always our gallery space attracts beautiful and exquisite exhibitions. This season we are delighted to welcome a few local groups such as Strabane Camera Club with their annual exhibition and 'Camerawork Derry' with a collection of images from the early 1980's.
"Finn Valley Men's Project will have an exhibition on looking at the diversity of churches in the border region.
"To mark the centenary of the signing of the Armistice, we will also be hosting a very special installation. We have gathered as complete a record as possible of every fatality from the local area on a day-by-day timeline.
"The exhibition will tell the story of these men, who after a century have almost been forgotten – revealing them as sons, brothers, fathers, farmers, mill workers and mechanics."
"Tickets for all events are now available at the Box Office on 028 71 384444 or online www.alley-theatre.com.
"Follow us on Facebook, Twitter, Instagram and Snapchat for current updates or sign up to our newsletter / download the new programme through the Alley Theatre website."
Tags: