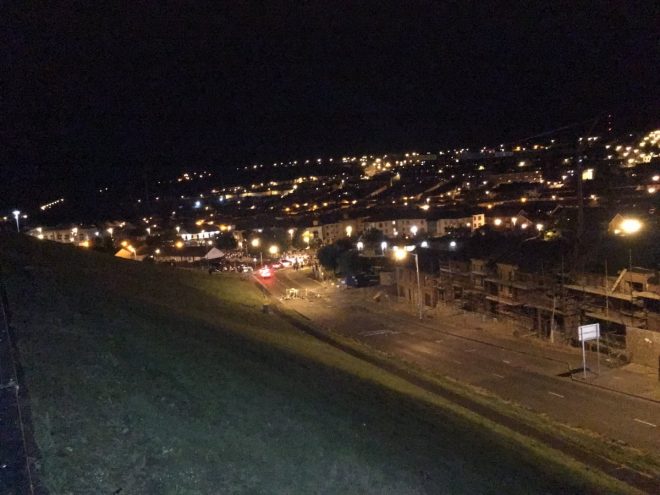 SINN Fein has been accused of hypocrisy over criticism of police making arrests during disorder which plagued Derry for six consecutive nights.
But the party has defended its criticism saying any arrest had to be "proportionate" and not provide a diversion from the violence.
Dozens of people were involved in disorder over last week with police attacked and petrol bombs thrown.
Four people – aged 15, 17, 22 and 55 – have been charged over the disorder.
On Friday a 16-year-old was arrested on suspicion of attempted murder of police.
Sinn Fein and the boy's legal representatives said he was interviewed for 14 minutes before being released unconditionally.
In a statement, solicitors Madden & Finucane said: "Not a shred of evidence was put to him because he had absolutely no involvement in respect of the matters for which he was arrested".
The law firm added that civil proceedings would be taken against the PSNI for unlawful arrest.
A complaint is also to be made to the Police Ombudsman.
Sinn Fein Foyle MLA Raymond McCartney said they had raised the matter with the PSNI and the arrest should be "rigorously investigated".
"The violence witnessed in Derry over the last week can never be excused but neither can heavy-handed policing and the circumstances of these policing operations are extremely concerning," he said in a statement.
"The public rightly expect the PSNI to be held to the very highest policing and human rights standards. That is the approach Sinn Fein take to the policing structures and we intend to ensure they are held to account for any instance where officers fall below the standards expected."
TUV leader Jim Allister has accused Sinn Fein of "hypocrisy".
"For days Sinn Fein has presented itself as on the side of law and order in Derry, but, true to form, as soon as arrests were necessary in pursuit of law and order Sinn Fein lined up to condemn the police."
He also said it was of "little surprise impressionable youths ape the actions of those presented to them as heroes" given a large mural depicting a young petrol bomber in a mural in Derry's Bogside.
"If there is any sincerity to Sinn Fein's supposed support for law and order let them begin by overseeing the removal of this mural which so blatantly promotes and justifies petrol bombing."
Today, Mr McCartney defended his criticism of police. He said police needed to be mindful of their actions as it could allow for "diversions" from the violence.
"Throughout last week we have worked very closely with the PSNI on the ground. We have ensured that there has been calm restored in Derry," he added.
"And at our meetings we said that they need to be mindful of their actions because sometimes their actions can allow diversions and that is what happened on Friday night and that is why I have criticised it."
He said – as had been put to him during the interview on the BBC – police should not be arresting people for "salutary lessons" saying arrests should be "right and proper".
"Irrespective of the circumstances in which anyone is arrested, it should be done proportionately and mindful there are people out there to exploit these type of situations to, as I say, to divert attention away from attacks and violence which we witnessed last week."
Tags: