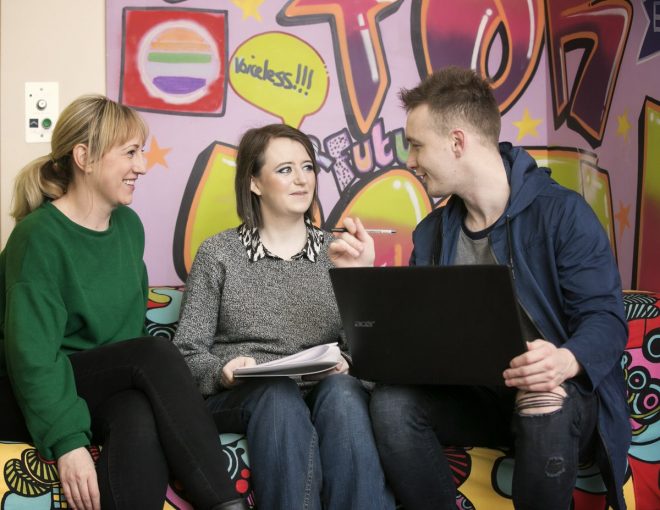 HOW would you feel if you could change something in your local community? Would you pick something personal that could in turn help others or would you like to help your community or school to become a better place?
Derry City and Strabane District Council and the Big Lottery Fund have come together and are investing £100,000 in a new project called 'Change Something' in the run up to 'Youth 19' a year dedicated to young people in the North West.
'Change Something' is one of a series of opportunities for young people to bring their hopes and aspirations to life and Make.Change.Happen."
The Change Something Fund aims to support young people to take the lead on projects and activities which are important to them.
The project, which is being delivered by Community Foundation NI through the Acorn Fund, is now looking for a group of ten young change-makers aged 13-24 to join the committee that will make decisions on which projects to fund.
Speaking at the scheme launch, Mayor of Derry City and Strabane District Council, Cllr John Boyle urged young people to get involved in the process and gain hands on experience by submitting an application to be a judge.
"The Change Something Fund is being delivered by young people for their peers and is an ideal opportunity to take a lead role in bringing positive change to their community," he said.
"It offers a chance to create special projects and activities which will sit alongside a programme of Youth 19 events which will have the priorities, needs and rights of young people at their core.
"The fund will not only allow young people to take ownership of Youth 19 by turning their proposals into reality, but it will also offer valuable experience to the young people who will manage and judge the fund.
"I would encourage young people aged 13-24 who are able to attend five meetings and are committed to helping other young people to get involved in the process by applying now to be a judge."
Julie Harrison, Big Lottery Fund NI Chair, said: "We are delighted to join up with Derry City and Strabane District Council to fund this fantastic initiative.
"We're already putting people in the lead in communities across Northern Ireland, and the Change Something Fund allows us to do that with young people in the North West.
"Real change happens when people have a say in the decisions affecting their lives. We're really excited to see how National Lottery funding will support young people to be the change they want to see in their communities."
Derry City and Strabane District Council's Children & Young Peoples Coordinator Claire Lynch added:
"The 'Change Something' project is a fantastic opportunity for young people in the District, giving them a real opportunity to shape the future of the North West.
"We have such a young and vibrant population who have so much to offer in terms of ideas and hopes for the City and District.
"Don't worry if you're not sure you have all it takes to undertake this role as we have a team available to support you with developing your skills.
"The team is in place to ensure all Youth 19 activities have the views, needs and priorities of young people at the heart of programming.
"I'd therefore encourage as many young people as possible to apply to join the judging committee – and take advantage of this fantastic opportunity to make a very 'real difference' and Make.Change.Happen."
Shauna Kelpie, Acorn Fund Development and Support Officer said: "In celebration of Youth 2019, The Acorn Fund is delighted that the Change Something Fund will empower young people to make a positive impact in their local areas.
"We've been supporting communities in the North West since 2014 and are looking forward to using our local knowledge and expertise to help put young people in the lead on this exciting project."
William Watson, a young person who took part in the creative thinking session for the development of the podcast produced for the launch of the Change Something Fund said: "This fund is a great opportunity for young people to show the positive things that they do within their community and to overcome prejudice.
"Young people can sometimes get negative press but this is our opportunity to show that we can do something good for our community".
Reiltin Doherty, a young person who also contributed to the podcast, said: "I think the Change Something Fund is really important.
"With young people making the funding decisions it means that this money will definitely have an impact on us. It's something our community needs and will make a positive change".
Full training and support will be offered to the successful applicants and hours spent on the project can count towards the Millennium Volunteer Award.
When the judging panel is formed and trained the first of two open calls for funding applications will be made for young people to apply for grants.
Young people hoping to join the committee and judge applications can apply by explaining why they would like to get involved by emailing a 250 written word or one minute video submission to changesomethingfund@derrystrabane.com
Application deadline is 14th September 2018 and the committee will be selected before the end of September 2018.
For more information see www.derrystrabane.com/changesomething
Tags: